Soirée Noël Toastmasters jeudi, 17 décembre 2015











An evening to remember…
Fellow Toastmasters let's raise our glasses in a toast to TOASTMASTERS. Let's celebrate our talents and efforts in the good company. Let's end the year together and make this a very special occasion.
Une soirée inoubliable…
Et si nous portions un toast A NOUS ! Nous, membres TOASTMASTERS pour saluer nos talents et clore une année d'efforts, partager un moment de convivialité en cette joyeuse période de fêtes.
---
Réunion /Meeting 07.12.2015 – A full meeting in true Toastmaster style giving Edwige Vinet, one of our newer members, the opportunity to host the evening as our 'Président de la Soirée' for the first time. She showed great organising ability and got all our members and guests to participate. In fact, our guests won most of the ribbons. See you all soon at the Christmas Party……
---
30.11.2015 'Red Carpet' Meeting at 'Les Satellites (co-working space). A great evening with 29 members and guests welcomed by Anne (our Hostess with the Mostest) making sure we all had a good time. Photo left our winners, Laurent, Maggie and Philippe. Photo right Sophie (President) and Anne (Vice President) successfully encouraging our many guests to participate.
---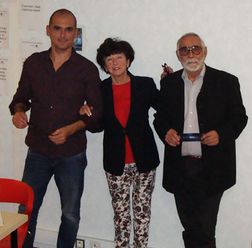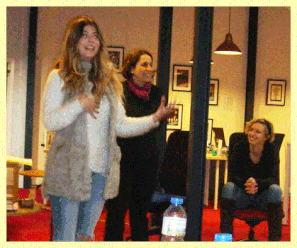 ---
16.11.2015 A great meeting with nearly all our members present and lots of guests. Susan fulfilled her first role as Table-Topics masters with some exciting situations back and forward in time. We had a 'full house' of 4 well-prepared speeches. These were carefully monitored by our Techno-Team of evaluators, timers, grammarians and Ah-counter. Winners were:
Table-Topics Maggie. Speeches Solomon. Evaluations Maggie.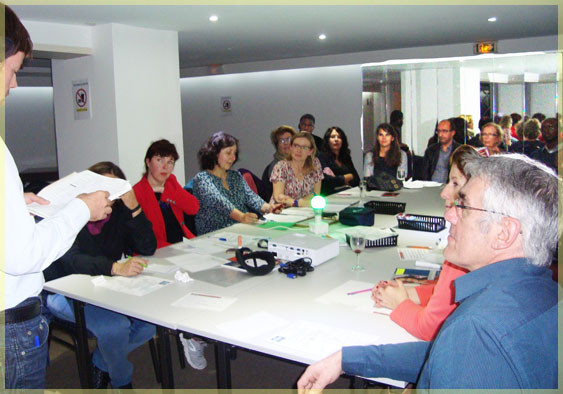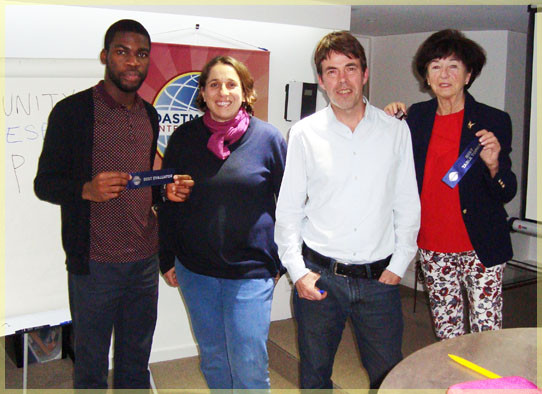 ---
13-15 November 2015 District 59 Autumn Conference in beautiful Amsterdam.
Right – Solomon who represented our club in the finals of the Table Topics contest accompanied by Carol, our club mentor and Siegfried, our Division President. Left – the very active participants at the Toastmasters' Conference Center in Amsterdam.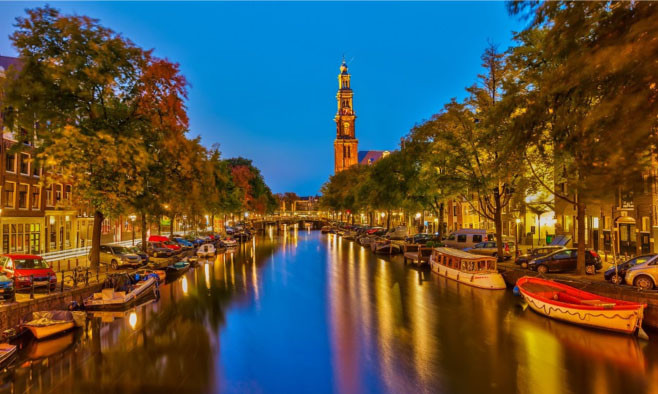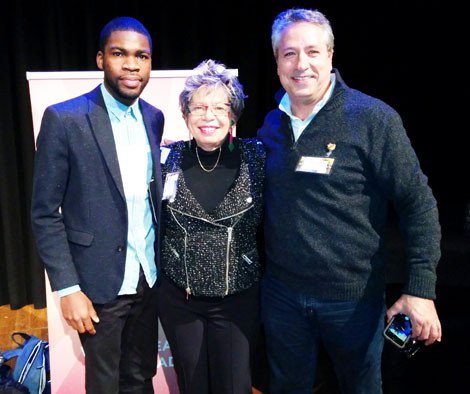 ---
Notre reunion du 2 novembre s'est très bien déroulé avec 20 membres et invites qui ont apprécié un programme varie dans le pur style Toastmasters. La presentation 'Tarzan' de Frank a fait son effet. Nombreux unvités ont participle et la Président remplaçante de notre club, Anne, a félicté nos heureux gagnants.

Our November 2 meeting was very successful with 20 members and guests enjoying a full and varied program in the true Toastmasters' style. Frank's tough 'Tarzan' Powerpoint speech was very 'illuminating'. Many of our guests participated and our acting Club President, Anne took pleasure in congratulating our smiling winners.
---
24.10.2015 Area Speech Contest (division level)
Nous avons passé une très bonne jounée à Aix et notre équipe Toastmasters Nice a brillé en remportant la 3ème place des discours et 1ère et 3ème place des improvisations. Bravo Solomon et Frank. Prochain arrêt Amsterdam…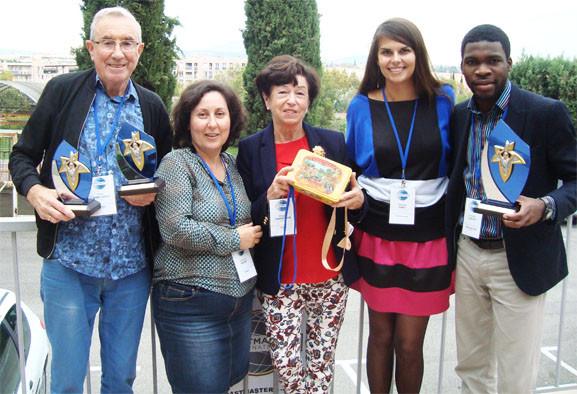 We all had a wonderful day in Aix and our Nice Toastmasters Team did exceptionally well by winning 3rd place in the Speech Contest and 1st and 3rd place in the Table Topics Contest. Bravo Solomon and Frank. Next stop Amsterdam…..
---
Meeting/Réunion 19.10.2015
Devant, nos deux nouveaux membres et gagnantes, Varanka et Claudine, avec leurs 'First Timer' et 'Briser la Glace' trophées.
Derière, Anne, Maggie, Frank et Solomon.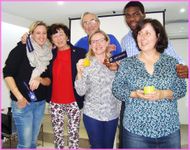 In Front, our two new members, Varanka and Claudine, with their 'First Timer' and 'Ice-breaker Speech' prizes. Behind, Anne, Maggie, Frank et Solomon.
---

10.10.2015 Inter Clubs Area Contest hosted by Toastmasters St. Raphael. Our Happy winners were Frank Thorogood and Solomon Ilaboya. They will now compete at Division level to be hosted by the Aix Toastmasters Club on ***24.10.2015***.
Venez vivre l'expérience Toastmasters en dehors de votre club avec vos invités.
Contests mean work but they can be real fun as well as you can see from the pictures above….
Humorous Speech Contest Winners 05.10.2015 1st Place Frank Thorogood
2nd Place Pandora Morcas. Next contest level Toastmasters, St. Raphaël Oct.10th.
---
Table Topics Contest 21.09.2015 – Laurent aided and abetted by Anne gave us a real FUN evening!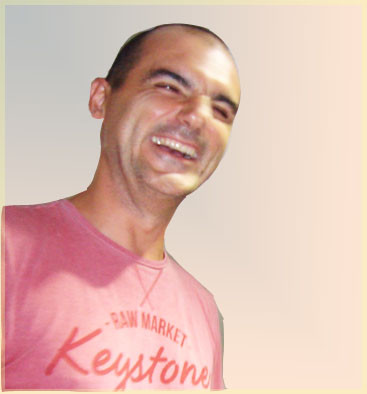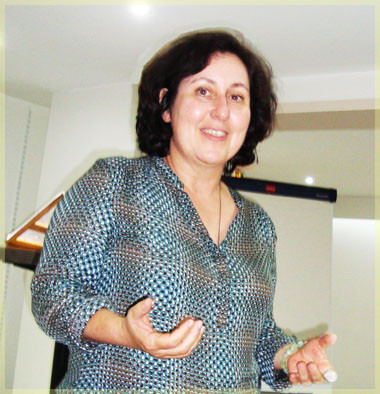 ---
A gauche Réunion 07.09.2015. A droite Expo. 'Rendez-vous des Association' 12.09.2015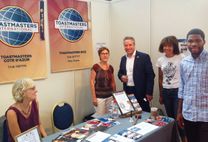 A gauche Réunion 07.09.2015. A droite Expo. 'Rendez-vous des Association' 12.09.2015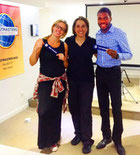 ---
Réunion 20.07.2015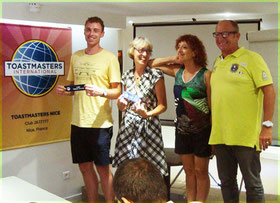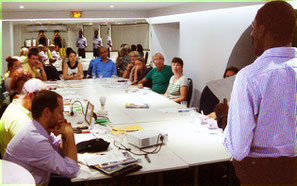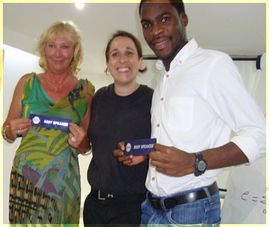 Réunion/Meeting 06.07.2015
L/R Frédérique, Régine, Sophie and Solomon. Sophie, our new President, happily announced our Leadership and Distinguished Club recognition from Toastmasters International.
Ari, notre Toastmaster de la Soirée, a dirigé notre réunion du 15 juin avec imagination et animation. Un petit B-mol a cause de quelques désistements (dernière-minute). MAIS Sophie et Régine ont remplacé notre Président et Evaluateur Général avec beaucoup d'élégance. Maggie a présenté notre nouveau bureau pour l'année prochaine et Ari, comme on peut le voir sur les photos, a pris un énorme plaisir en présentant les rubans à nos heureux gagnants. A la prochaine réunion, lundi 6 juillet. A noter – une liste des nouveaux membres du Bureau sera en ligne avec lien prochainement.
Ari as Toastmaster of the evening, showed real showmanship in animating our meeting on 15th June. Proceedings were slightly perturbed by some last-minute cancellaltions. However, Sophie and Régine elegantly replaced our President and Chief Evaluator. Maggie presented and welcomed in our new Committee members for next year and Ari, as can be seen from the photos, had a great time handing out the ribbons to our happy winners. In the meantime, see you all soon on Monday, 6th July. P.S. A list of new committee members will be on line soon with link.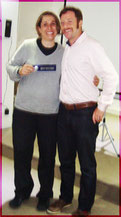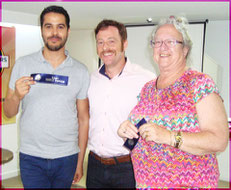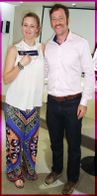 ---
Réunion/Meeting 01.06.2015
14 members with 2 guests enjoyed a beautiful warm Toastmaster evening with aperos and tapas served on the old clock-tower terrace. Charrie provided some challenging table-topics (how to sell a ball pen for 100,000 euros). Daniel gave his tenth speech and is now (every inch) a 'Competent Toastmaster'. Frank rode into battle and showed no mercy in counting the dreaded AHs, Ums and EUhs. However, our brave and undaunted members have ensured a full and entertaining programme for our next meeting on Monday 15 June. Come and join us….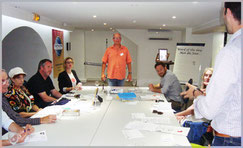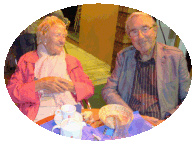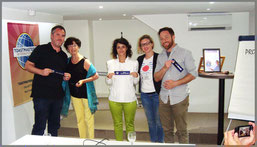 ---
Réunion/Meeting 18.05.2015
Nous avons eu une soirée mouvementée avec un programme très chargé pour nos 16 membres et invités. Sylvain a organisé royalement l'intronisation de 4 nouveaux membres. Pandora s'en chargeait des Improvisions plutôt sérieuses cette fois-ci. Maggie a présenté deux excellents discours livrés par Linh et Solomon.
Notre orateur-vedette, Alexandre a été très convaincant avec sa présentation ludique expliquant les fonctions et responsabilités des membres du bureau. La réception enthousiaste de la part de nos jeunes membres a été très positive. Rendez-vous le 1er Juin…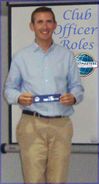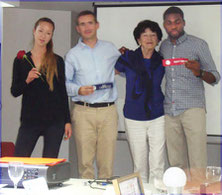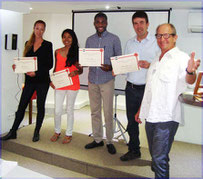 Réunion/Meeting 04.05.2015
An excellent turn-out with 15 members and 4 guests.
Sylvain surpassed himself with his 'table topic couples' (one speaking/one acting). Couples Solomon & Pandora and Jean & Julie really earnt their ribbons. The Best Speaker ribbon went to our new member, David evaluated by Maggie who also got a ribbon. Charrie charmed us all with her exotic but poignant 'Icebreaker Speech'. Everyone seemed to be inspired by our 'word-of-the-evening – 'forrrrmidable'.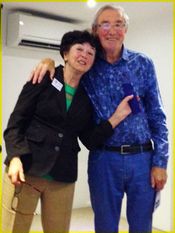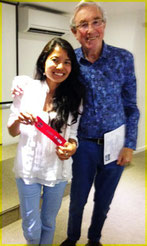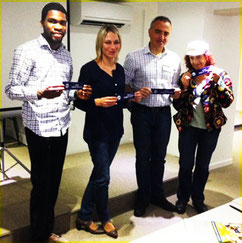 ---
District 59 Division Conference Aix en Provence 25.04.2015
This was a really fun conference and members came home with quite a few trophies. New friends were made and contacts renewed. The winners will now go forward to the Toastmasters European Conference in Porto in May.
C'était une conférence très réussite et nos membres ont gagné un bon nombre de trophées. De nouveaux amis ont été faites et des contacts renouvelés. Les gagnants vont assister à la Conférence européenne à Porto en mai.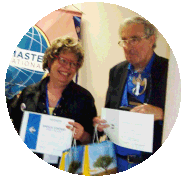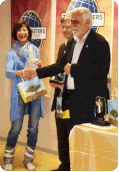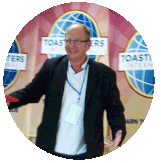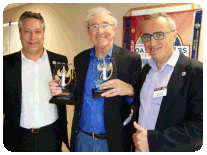 ---
Réunion/Meeting 13.04.2015
Notre réunion était très internationale composant 9 nationalités différentes. Pandora a présenté des Improvisations originales, allant de la vie amoureuse jusqu'à à la mort 'immortalisée'. Le gagnant a été Ari. Il y avait trois excellents discours visuels. Nathalie a gagné avec sa présentation ludique de l'Empire Toltèque. Le meilleur évaluateur était Daniel bien en forme.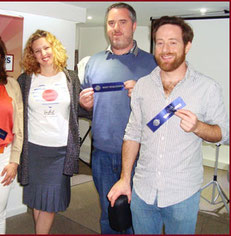 G/D les Gagnants : Nathalie, Anne, Daniel & Ari. See you soon. A vous revoir 20.04.2015
Our meeting was very international comprising 9 nationalities. Pandora introduced some challenging Table Topics, ranging from love affaires to epitaphs. The winner was Ari with a lively epitaph. We enjoyed three excellent visual speeches. Nathalie was the winner explaining the mysteries of the incredible 'Toltec Empire'. The best Evaluator was 'dynamic' Daniel.
---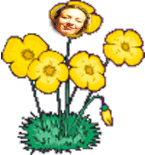 Special Event – Area F.3 Speech & Evaluation Contest 28.03.2015
Saturday Afternoon our Club of Nice was host to the other clubs of the area – Villeneuve-Loubet, Aix and St. Raphael for the Speech and Evaluation Contests. The winners will do battle with the clubs of Division 'F', from Lyon to Toulouse and Pau in April, to attempt to reach the European Finals in Porto in May.
---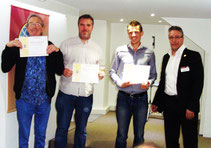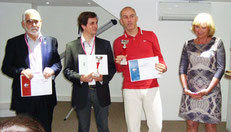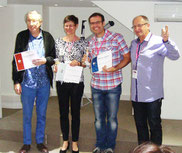 Club Speech Contest 23.03.2015
left Winners (English): 1st Frank 2nd Daniel Gagnants (en français) à droite 1er Régine 2ème Maggie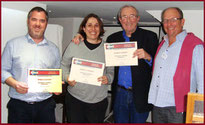 ---
Réunion/Meeting 09.03.2015
Winners/Gagnants : Improvisations – Pandora Speech/Discours – Linh
Evaluations – Frank


Réunion/Meeting 15.06.2015


Spring was in the air as evidenced by the words of the evening 'Printemps' and 'Sunshine'. Vanessa brought a touch of sunshine as a very capable Toastmaster of the Evening. Medina's Table Topics were on work as she was excited about her new job. Linh gave us a fascinating view of her life in Europe and Vietnam. The evening was an agreeable interlude between Speech Contests.
---
*** Réunion/Meeting 16.02.2015*** Our meeting reflected Carnival Time with members and guests joining in a lively and full program. Our winners were
Improvisations: Brigitte (1st-time guest) – Discours/Speech: Malina (new member) – Evaluation: Anne (regular winner) – Chair Lady: Marjorie (excellent performance)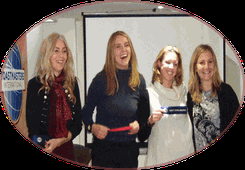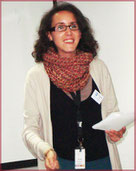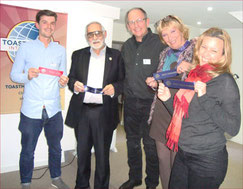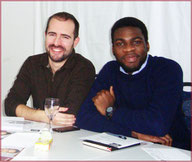 ---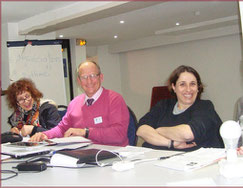 Réunion/Meeting 02.02.2015
Winners/gagnants:
Impros./Table Topics: Philippe
Discours/Speech: Régine
Evaluation: Anne T
Icebreaker Speech: Jake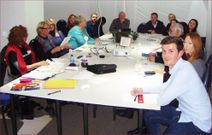 Encore une soirée conviviale Sylvain nous a salué chaleureusement en présentant notre programme à nos invités et membres. Sophie nous a régalé avec un excellent choix d'improvisations gastronomiques. Nos jeunes orateurs (Jake, Miguel, Régine et Vanessa D) ont livrés des discours variés et modernes. Maggie comme Evaluatrice Générale a organisé ses évaluateurs (Frank, Philippe, Anne T et Linda) et son équipe techno (Medina, Pandora, Daniel et Malina) selon les consignes de Toastmasters.
---
Réunion/Meeting 19.01.2015 – Winners/gagnants
Impros./Table Topics : Laurent – Discours/Speech : Samir – Evaluation : Anne.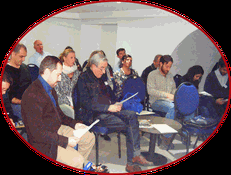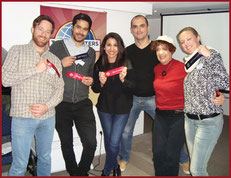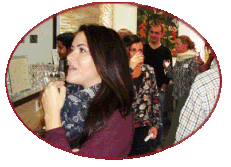 Our evening commenced with some gastronomic marvels from M. & Mme Billiard, proprietors of our new Toastmaster venue, Hotel Villa La Tour. Our 21 members and guests seemed very happy; in fact we had to force them into doing some serious toastmastering. Sylvain and Pandora introduced the evening's program. Maggie selected an assortment of colourful objects for some lively Table Topics Three Icebreaker Speeches followed evaluated by Sophie's dynamic techno team of evaluators, timer, ah counter and grammarians. Linda organised 'mentors' for our new members to foster their oratory and leadership skills.
---
Meeting/Réunion 07.01.2015 Maison des Assoc.Nice Centre
Un grand bienvenu à nos trois nouveaux membres enthousiastes, Medina, Samir et Ari.
Gagnants : Impros. Ari, Discours Sophie, Eval. Linda. Nous sommes impatients de voir tout le monde le 19 Janvier à notre nouveau lieu de rencontre à l'Hôtel Villa la Tour, 4 rue de la Tour, Nice. Il y aura un petit supplément de 10 € pour les boissons de bienvenu et tapas/canapés. Mais l'accueil avec une excellente salle de réunion moderne et équipée bien à l'hauteur de notre club, le vaut bien. Voir détails.
---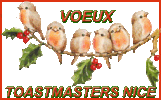 BONNE ANNEE de la part de notre Président, Sylvain : J'espère que 2015 nous apportera autant de plaisir et de succès qu'en 2014. En 2014 Toastmasters Nice s'est bien 'mouillé la patte' dans tous les concours inter-clubs en anglais et en français. Notre objectif pour cette nouvelle année est d'encourager tous nos nouveaux membres à atteindre le niveau de 'Compétant Communicateur (CC) le plus rapidement possible afin de pouvoir progresser vers les programmes plus avancés ainsi que briller aux concours futurs.