CHRISTMAS PARTY / SOIRÉE NOËL 19.12.2016
We all enjoyed a wonderful evening together with good food, happy speeches, party games, crackers and gifts presented by our own Miss Noël. But above all was the fact that everyone contributed to a glowing, friendly atmosphere which lit up the whole evening.
Nous avons tous passé une merveilleuse soirée ensemble avec la bonne bouffe, les discours joyeux, les jeux, les 'crackers' et les cadeaux distribués par notre propre Miss Noël. Mais, au-dessus de tout cela, était le fait que tout le monde a contribué à une atmosphère chaleureuse et conviviale qui a illuminé toute la soirée.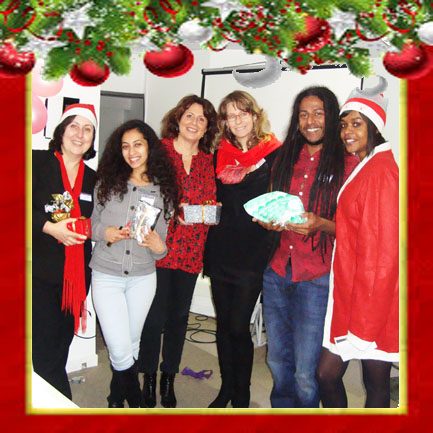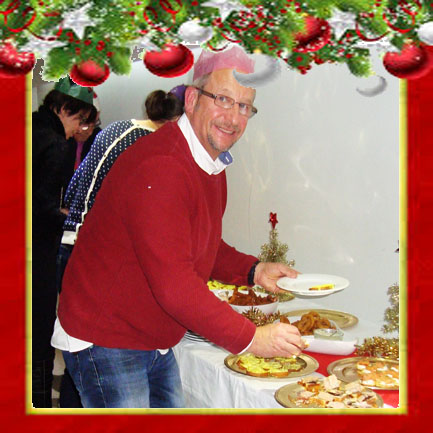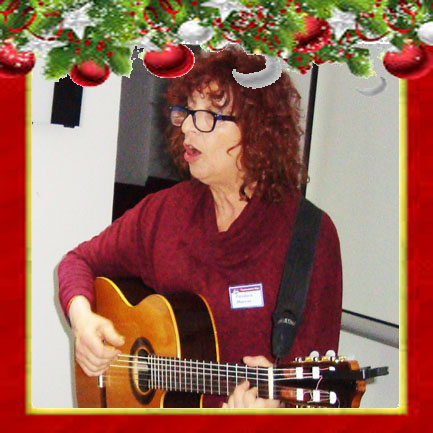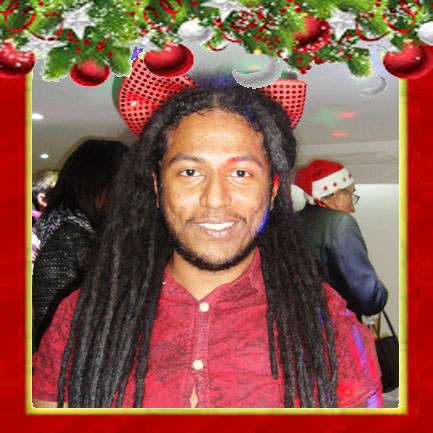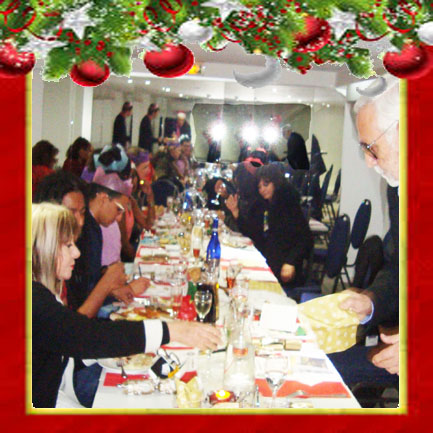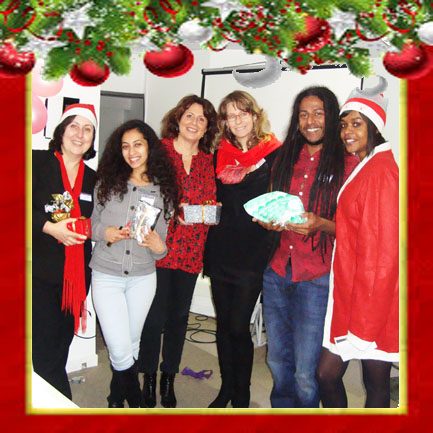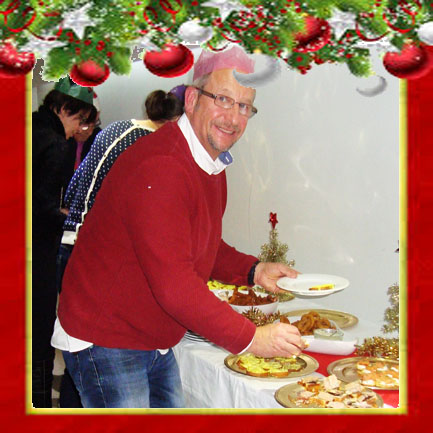 ---
Réunion 05.12.2016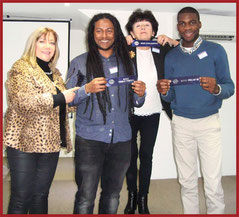 A great evening with a full programme for our 18 members and guests. The meeting started a bit late due to the extra-special pre-Christmas tapas. Joël conducted the meeting and introduced our speakers, Maggie produced some seasonal table topics and Rayyan watched over her evaluation team. Our winners L/Rt …
Joëlle, our Hostess of the evening
Hakim, Best Table-Topic
Solomon, Best Speech
Maggie, Best Evaluation
---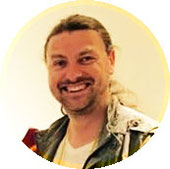 Réunion 14.11.2016
Nous étions très heureux d'accueillir notre bien aimé Pascale, Gouverneur du Secteur venu spécialement de Marseille.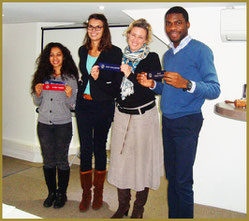 ---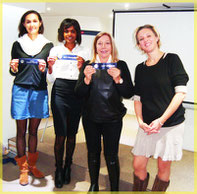 Meeting 07.11.2016
Left Winners...
Best Table Topics-Alexia . Best Evaluation – Rayyan
Best Speech – Joëlle
Best Hostess – Anne
Right, Isla's table-topic. A great evening for our 25 happy members and guests.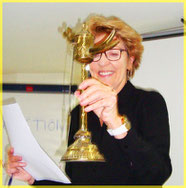 ---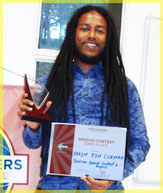 29.10.2016
Toastmasters Area Speech Contest
happily hosted by our sister club, Toastmasters Aix-en-Provence in the lovely Château de Baume
Left – Hakim took 3rd Place for our club in a fun-packed Humorous Speech Contest with his speech 'A Day in My Life'.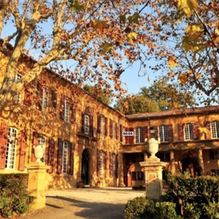 ---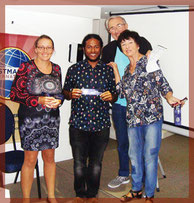 Club Concours/Contest 01.10.2016
Winners/Gagnants
English Speech Hakim
Discours français Maggie
Improvisation Pandora
Table Topic Isla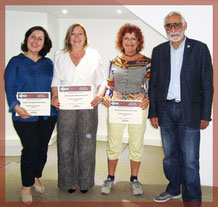 ---
Réunion/Meeting 19.09.2016
Une soirée très réussite avec la participation de nos invités – Joelle, Melinda, Karine, Martine et Aliou
Solomon conducted the meeting in a very professional manner with excellent table topics from Rayyan and informative evaluation feed-back from Claudine.
Susan gave us some 'food for thought' in her presentation of selected, world famous images.
Martine (notre invitée/oratrice québécoise) a livré un discours très ludique à propos sa vie comme québécoise.
Hakim found some 'humour' (noir ???) in reviewing his immediate situation just before his plane crashed.
Sophie a présenté notre Club avec 'the TMI DISTINGUISHED CLUB Ribbon'.
Winners, Guests & Presenters
Winners, Guests & Presenters
Winners, Guests & Presenters
---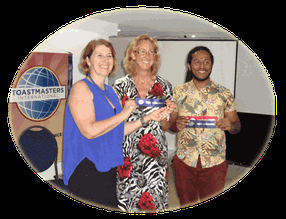 Meeting/Réunion 05.09.2016
A great evening with a full and fun program.
Our smiling Winners were …
Best Table-Topic, Varun
Best Speaker, Hakim
Best Evaluator, Midgie
---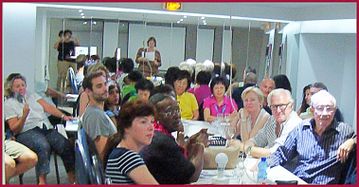 Meeting/Réunion 04.07.2016
Our last meeting on 4th July was stupendous with 16 very dynamic and highly motivated guests. See you all soon on September 5, 2016.
Happy Winners: Table Topics MURIEL, Best Speech ISLA, Best Evaluation DUNSTANETTE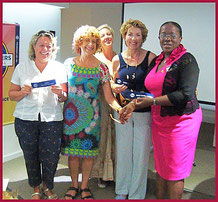 ---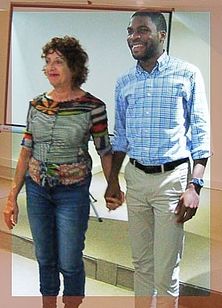 Meeting/réunion 20.06.2016
Our meeting started on a serious note with the introduction of our new club officers for 2016/2017 check Membership.Our 3 guests appreciated 4 good speeches. Anne gave the winning speech on when to say NO and how to to give up when you are NOT winning which was not the case this time. Frank had a bag full of 'goodies' for his Table-Topics. Evaluations were helpful and varied and Isla and Sophie tied for the winning ribbons.. We look forward to seeing you all soon.
---
Meeting/Réunion 06.06.2016
Une bonne soirée avec 15 membres et 3 invités très actifs. Un petit bémol à cause de quelques désistements, mais Anne, notre présidente adjointe, est restée très Zen en réattribuant des rôles manquants. En effet, tout le monde était très heureux de l'aider à créer une soirée chaleureuse, conviviale et réussie.
Nos Gagnants:
Meilleure Improvisation – Frank exprimant son adoration pour le 'Fish and Chips '
Meilleur discours – Pandora racontant vivement ses expériences sensationnelles au tour du monde.
Meilleure évaluation – Susan a livré une prestation claire et nette pour le discours de Claudine.
Rendez-vous le 20 Juin !
---
20-21 May Toastmasters' District Conference in Luxembourg.
Laurent Boghossian, one of our best speakers, was selected to give a 'Humorous Speaking' presentation at this auspicious European event.'
As he points out, putting humor into a speech is the gateway towards successful communication. For instance starting with a light joke or situation radiates warmth to an audience. In fact, humor is all about organizing yourself in a serious manner without seeming to be too serious and is an excellent communication skill with which to entertain and inspire an audience. However, we must first learn the subtle art of being funny without being ridiculous….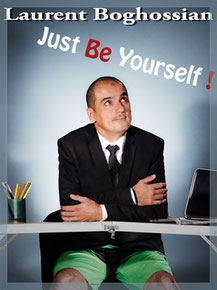 ---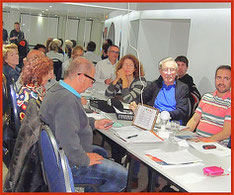 Réunion 21.03.2016
Concours Discours Fr.
1er Anne – 2ème Laurent
Speech Contest Ang.
1er Anne – 2ème Solomon
Note: our Club winners will go through to the Area Contest on 2nd April in Marseille.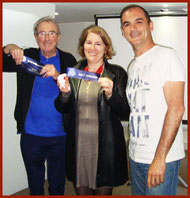 ---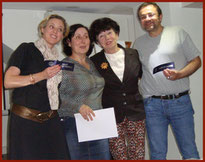 Réunion/Meeting 02.05.2016
Nous avons participé à une soirée formidable dirigée et organisée par notre animatrice, Claudine. David nous a traité d'une sélection d'improvisations imaginatives et amusantes et Anne était en pleine forme pour gagner. La soirée a continué avec trois discours préparés et livrés par Pierre, Rayyan et Sophie – Pierre (avec son 'fer à repasser magique') a gagné. Maggie a remporté le ruban pour la meilleur évaluation et Solomon, soutenu par son équipe analytique ont terminé la soirée juste comme il faudrait. A bientôt le 16.05.2016.
---
RéunionMeeting 18.04.2016
The meeting was extremely happy and light-hearted due to our TM of the evening, Miguel. Claudine's Table Topics were so good that three people won a prize. Maggie was voted best speaker with her speech 'What a Wonderful World'. Rayyan gave Maggie an excellent and very touching evaluation for which she won the best evaluator ribbon. Needless to say we hope to see you all again on Monday 2nd May for another worthltwhile and happy evening together.
---
Réunion/Meeting 04.04.2016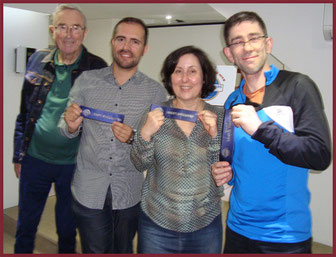 left-right – Frank Toastmaster of the Evening with his happy winners – Miguel best Evaluation, Claudine best Speech & Olivier (guest) best Table-Topic.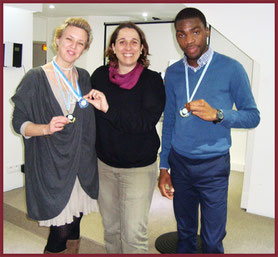 Concours (inter-club) Marseille 2 avril.
Anne 1er Evaluations françaises & 3ème Discours anglais. Solomon 2ème Discours anglais. Au centre Sophie (Présidente) souriante et fière
---
Meeting/Réunion 16.05.2016
Left: Happy and hard-working members and guests.
Right: Table-topics & Evaluation winner, Frank with winning Speech from Marie-Françoise.
Far Right: our Master of fun and animation, Laurent
---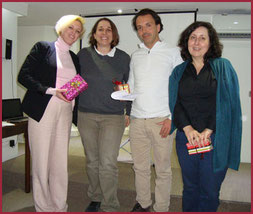 Réunion/Meeting 7.3.2016
Concours Evaluations française : – Disccours Cible Edwige – Gagnants : 1. Anne 2. Claudine 3. David C.
Evaluations Contest: Keynote Speech Isla – Winners: 1. Anne 2. Maggie 3. David C.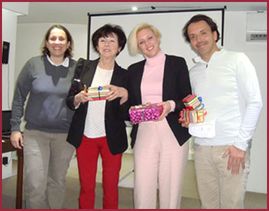 ---
Réunion/Meeting 29.02.2016
Une soirée exceptionnelle.
Tout ce que vous avez toujours voulu savoir et comprendre sur Toastmasters vous sera expliqué.

 Vous découvrirez l'histoire de Toastmasters, la définition des rôles, le bon déroulement d'une soirée, la technique pour faire de bonnes improvisations, discours et surtout évaluations, avec notre invité de marque Siegfried Haack.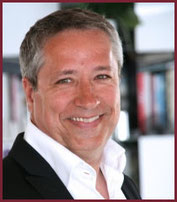 ---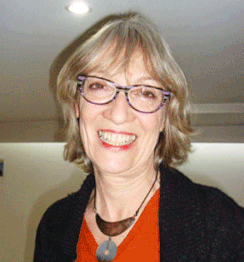 Meeting/Réunion 15.02.2016
Our very special guest and star of the evening, Carol Bausor, excelled herself and with her 'special polish' she made our evening shine! Winners
Best Table Topic: Jake
Best Prepared Speech: Isla
Best Evaluation: Neal
First-timer Ribbon: Pierre
---
---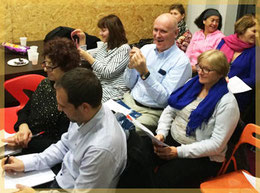 Meeting/Réunion 01.02.2016
"chez Les Satellites" (Co-working space)
A great evening with 24 members and guests :
Our winners:
table-topics /Improvisations – Solomon
speeches /discours – Laurent
évaluations – Niel. However, we were all happy winners during this special evening.
---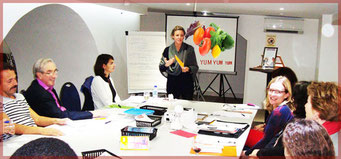 Réunion 18.01.2016 "Hotel Villa la Tour"
Une réunion dans la tradition Toastmasters sous la tutelle de Marie-Françoise. Gagnants :
table-topics/Improvisations – Pandora
speeches /préparés – Reena
évaluations – Anne et Ice-Breaker – Susan
---
Réunion/Meeting 04.01.2016
We were all back for the New Year. Perhaps one kilo heavier? But raring to go with a bright and happy start for 2016! A mystical New Year theme with Frank's crystal ball. Left/right our magical winners Laurent best speaker, Anne best table-topic, Varenka our hostess of the evening and Solomon our best evaluator.