18.12.2017 SOIREE de NOËL
Une belle occasion pour passer des bons moments ensembles et pour gouter un excellent diner de fête avec deux autres clubs de la région, Toastmasters Sophia Antipolis et Toastmasters Côte d'Azur.
Photo right : our Merry Club Presidents!!!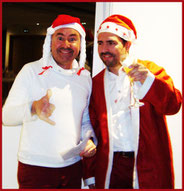 ---
Meeting/Réunion 04.12.2017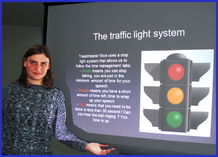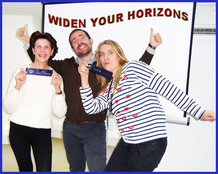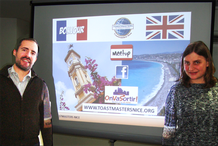 27.11.2017 SUPER TRAINING RÉUNION/MEETING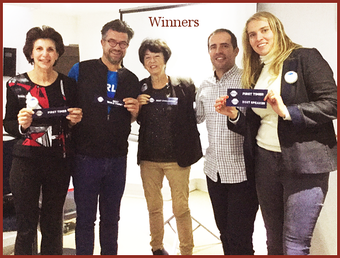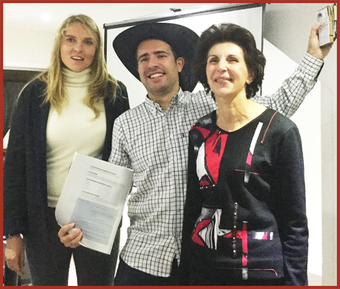 Notre président, Miguel, appuyé par Anaelle, notre nouvelle vice-présidente administration, nous a offert d'excellentes présentations visuelles. Les images étaient non seulement superbes mais très appropriées et informatives. Les commentaires décrivant la méthode éducative de Toastmasters étaient clairs et faciles à comprendre, et les invités et les membres étaient impressionnés et heureux. Maggie, Jean et Frank ont expliqué l'art de faire de bons discours, évaluations et improvisations – sans oublier l'art de la «bonne écoute». Nous devrions certainement encourager plus de ces soirées informatives.
Our President, Miguel seconded by our new Vice President Admin., Anaelle treated us to some excellent visual presentations. The images were not only superb but very appropriate and informative. The commentaries describing the Toastmasters Educational Method were clear and easy to understand both guests and members were impressed and happy. Maggie, Jean and Frank explained the art of making good speeches, evaluations and improvisations – not forgetting the art of 'good listening'. We should definitely encourage more of these informative evenings.
---
Meeting/ Réunion 20.11.2017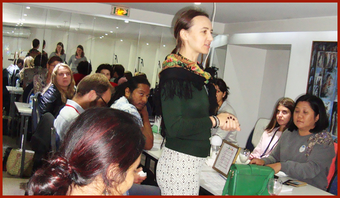 ---
Our 8 guests enjoyed our Meeting. Our new member, Maricel, was introduced to the Club and immediately made her 'Icebreaker' Speech. Our Guest of Honour, Sylke, an experienced Toastmaster, evaluated our meeting. Register now for our next meeting where the 'Famous Toastmaster Method' will be fully explained***
Nos 8 invités ont apprécié notre réunion. Notre nouveau membre, Maricel, a été présentée au Club et a immédiatement fait son discours 'Briser la Glace'. Notre invité d'honneur, Sylke, une Toastmaster expérimentée, a évalué notre réunion. N'oubliez pas de vous INSCRIRE pour notre prochaine réunion où la 'Méthode Célèbre Toastmaster' sera pleinement expliquée ***
---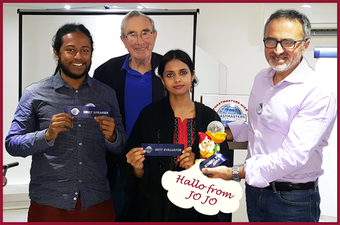 Meeting/Réunion 06.11.2017
A small meeting with10 members and three guests. However, these 13 very precious souls made for a happy and motivated evening.
Gagnants/Winners
Table Topics/Impros : Jean & JO JO
Speech/Discours : Hakim
Evaluation : Preeti
Une petite réunion avec 10 membres et trois invités. Cependant, ces 13 âmes très précieuses ont réussi une soirée heureuse et très motivée.
---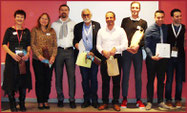 Conférence Division F. 11.11.2017
Right Cristina & Frank who represented us in Aix. Left – Pascal Vilarem, Directeur, Div. F. & team.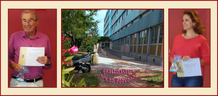 ---
28.10.2017 Inter-Club Contest/Concours avec Toastmasters Toulon. Merci & Bravo Toulon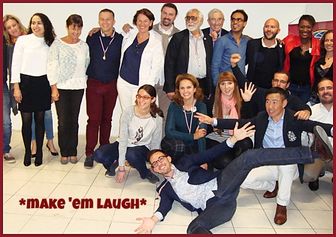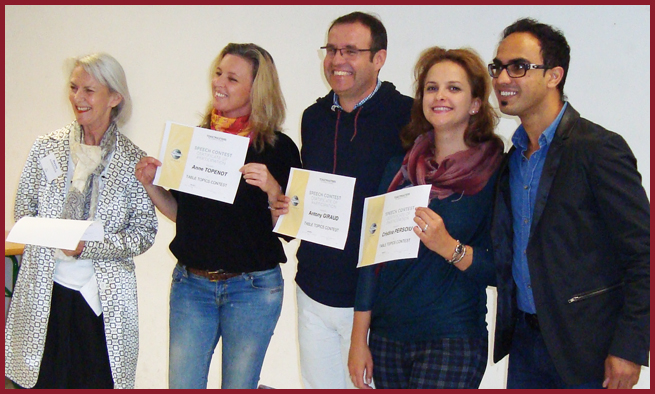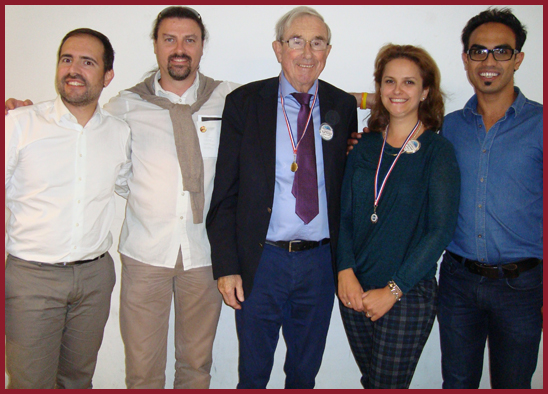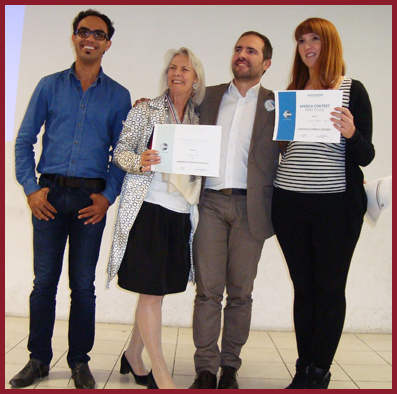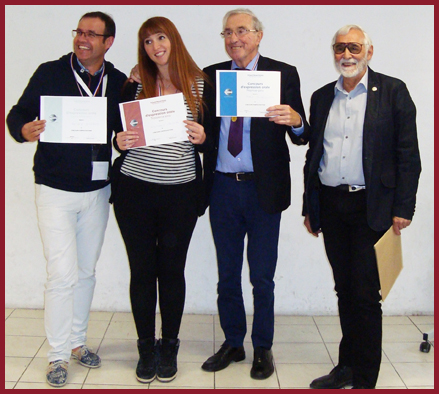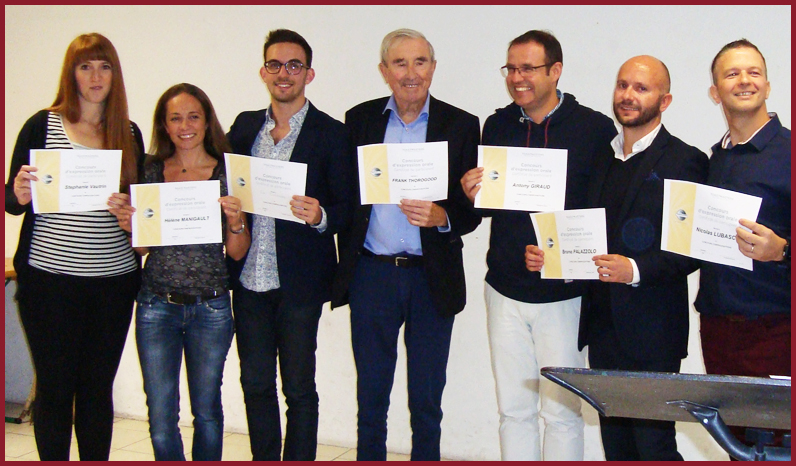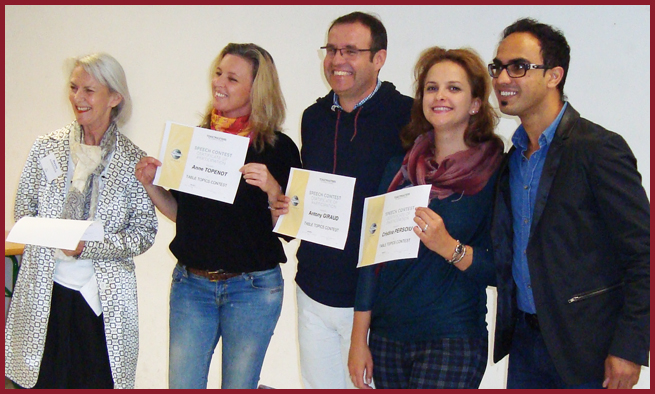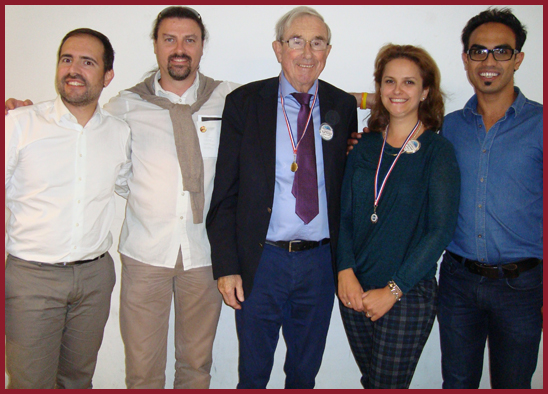 Frank Thorogood a gagné la 1ère Place aux improvisations (français)
Cristina Persoiu won 2nd Place Table Topics (English)
---
16.10.017 CLUB CONTEST NIGHT &
*** WHAT A NIGHT***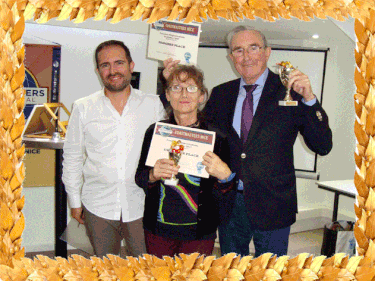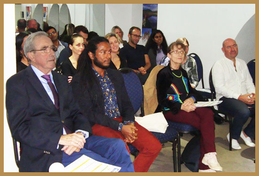 Une soirée mémorable! Le concours était super et nos membres étaient prêts à faire de leur mieux. Cette bonne et heureuse soirée a été partagée avec un grand nombre d'invités. Nos vainqueurs se rendront à notre club-soeur à Toulon le 28 octobre pour la prochaine étape des compétitions interclubs. Entretemps, Merci à tous et à bientôt à notre prochaine réunion (session normale) le 6 novembre.
A night to remember! The competition atmosphere was great and our members were raring to go. This auspicious and happy evening was shared with a large number of guests. Our winners will be travelling to our sister-club in Toulon on 28th October for the next stage of the our Inter-Club Competitions.
Thank you all and see you again soon at our next meeting (normal session) on 6th November.
Improvisations en français
1 Frank GAGNANTS
2 Mag
3 Anaelle
Discours Humoristique Fr.
1 Miguel GAGNANTS
2 Maggie T
3 Mag V
Table Topics in English
1 Hakim WINNERS
2 Rayyan
3 Cristina
Humorous Speech Eng.
1 Frank WINNERS
2 Preeti
3 Anaelle
---
Réunion/ Meeting 02.10.2017
Une réunion très réussite avec 25 membres et invités.
An excellent evening with 25 members and guests.
Winners/Gagnants :
Topics/Impros. – Maricel (guest)
Speech/Discours – Anne
Evaluation – Jean (new member)
Host of the evening – Frank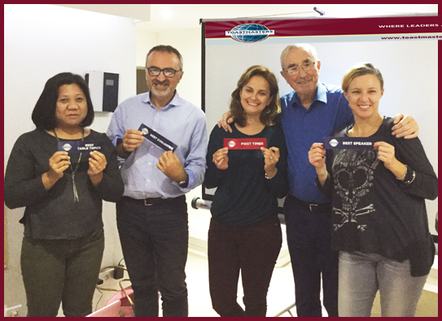 ---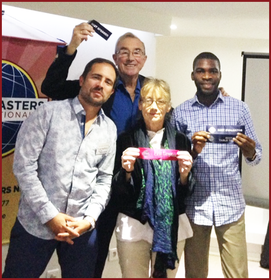 Dernière Réunion/Last Meeting 18.09.2017
A great Meeting with lots of enthusiastic guests.
Winners/Gagnants :
Table Topics/Impros. – Solomon
Discours/Speech – Frank
Briser la Glace/Icebreaker – Maggie 2
Evaluations – *Encore* Solomon
---
MAISON DES ASSOCIATIONS
16.09.2017
Toastmasters Nice combined with their sister-club, Toastmasters Sophia Antipolis, for a joint presentation of Toastmasters. The feed-back was excellent with a surprise and enthusiastic visit from representatives of the Mairie of Nice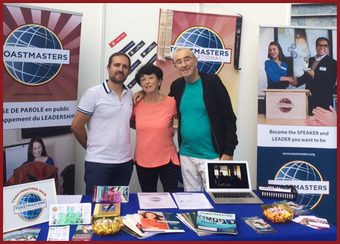 ---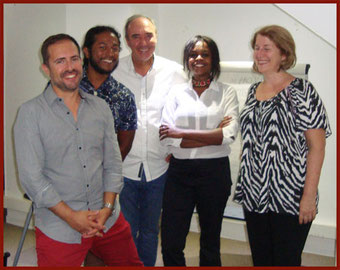 Réunion/Meeting 04.09.2017
A fairly quiet meeting after the Summer Break. However Preeti, our Toastmaster of the Evening, ensured that we started on time and ended on time. A very important part of the Toastmaster training.
Winners/Gagnants :
Table Topics/Impros. – Bernard
Speech/Discours – Miguel & Hakim
Evaluations – Marie-Françoise & Rayyan
---
Réunion/Meeting 17.07.2017
A very happy and worthwhile meeting before the Summer Break…
Winners/Gagnants :
Table Topics/Impros. – Miguel
Speech/Discours – Soloman
Evaluation – Marie-Francoise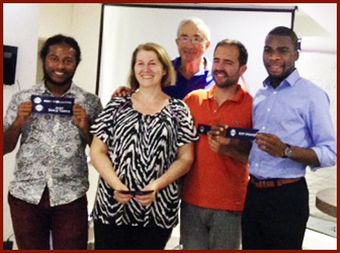 ---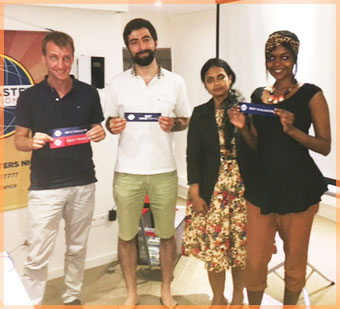 Réunion/Meeting 19.06.2017
Preeti, our charming Hostess ran a very enjoyable evening making sure we took our roles seriously and and that we ended our meeting ON TIME.
Winners/Gagnants :
Table Topics/Impros. ALEXIS (TM guest from Canada)
Speech/Discours CEDRIC (Icebreaker Speech BRAVO!)
Evaluation RAYYAN (encore BRAVO)
---
Réunion/ Meeting 05.06.2017
A very nice holiday evening with an exceptional guest participation one of whom, Philippe, won the Table Topics session hands down! Jacqueline gave here first 'Icebreaker' t Speech and won two ribbons. Anne won the evaluation Ribbon. The meeting ran a little late due to an over full and eventful programme. See you all again on the 19th.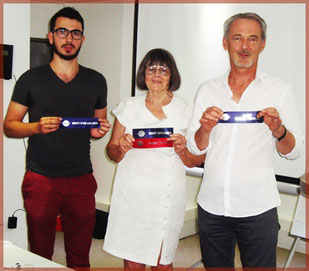 ---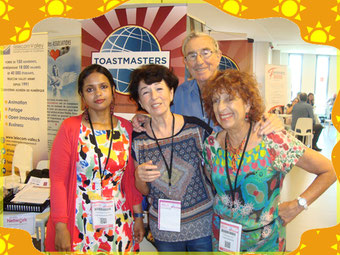 NEWS FLASH 01.06.2017
Toastmasters Nice participation and presentation at Riviera Network, Antibes. This was an extremely worthwhile event for professional communication and networking. There was a great enthusiastic atmosphere all round with many new and dynamic 'start-ups'.
Many thanks to Maggie, Preeti, Mounina, Anaelle and Frank for running our stand.
---
Réunion/ Meeting 22.05.2017
A great Evening with lots of happy guests including our Guest of Honour and area gouvenor, Pascale.
Our Winners were : Anaelle, Preeti and Isla with a smiling Susan as our Hostess of the Evening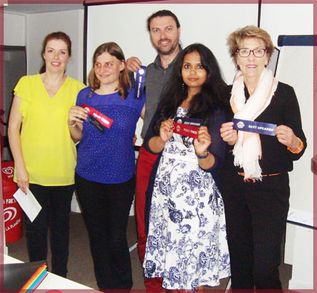 ---
Réunion/ Meeting 08.05.2017
HAPPY WINNERS: Sophie – Best Speaker – Alasssan – Table Topic – Best Evaluation – Miguel. Sorry, no photo available…
---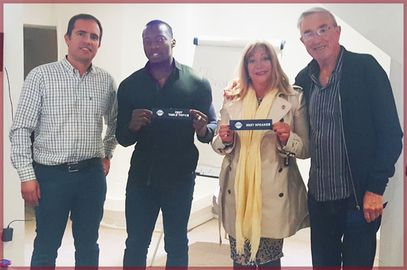 Réunion/Meeting 24.04.2017
Une réunion bien équilibrée avec deux discours en français et deux en anglais. A really well-balanced evening with two speeches in English and two in French: Gagnants/Winners :
Improvisation/Table Topic – Allassane
Discours/Speech – Joëlle
Evaluation – Frank.
---
Réunion/Meeting 03.04.2017
Winners/Gagnants (left-right)
Improvisations: MIGUEL
Evaluations: ANNE
Hostess: SUSAN
Speech: ALASSANE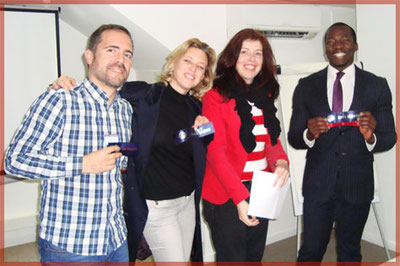 ---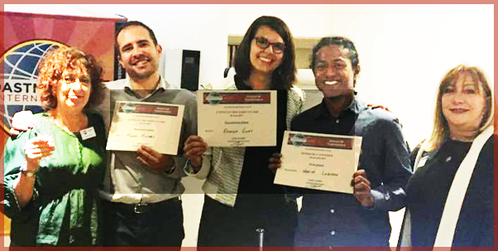 Réunion/Meeting 06.03.2017
Winners: Miguel, Edwige & Hakim.
A happy evening thanks to our two charming Hostesses Pandora & Joëlle
---
Réunion/Meeting 20.03.2017 CLUB SPEECH CONTEST
BRAVO! Pandora, Miguel, Edwige, Hakim et Joelle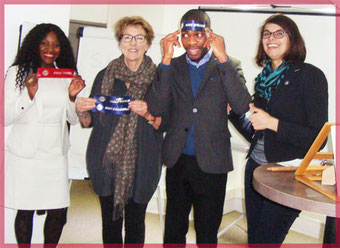 ---
Réunion/Meeting 20.02.2017. There was a happy, carnival atmosphere with a large number of motivated visitors and very active members present. Maggie's Table Topics fired the imagination. Anas recounted his travels through Morocco, America and France in his 'Icebreaker' Speech. Maha clearly analised the good and questionnable aspects of the French 'Silicone Valley'. Joëlle's speech on 'Women's Rights' inspired us all especially her evaluator who also won a ribbon.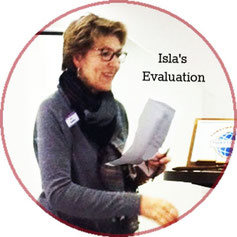 ---
Réunion/Meeting 06.02.2017
Eight guests were present at our meeting. Joëlle presented some very original table topics which were won by Alassane, for the second time running. Susan won the prize as best speaker, on the subject of 3D technology. Pandora won as best evaluator. Two new members gave their "first "icebreaker" speech, Lilian in English and Véronique in French.
Huit invites étaient présents à notre réunion. Joëlle a proposé des thèmes originaux pour les improvisations, gagnés par Alassan. Susan a gagné le prix pour le meilleur discours « 3D Technology » et Pandora a bien gagné son ruban comme meilleure évaluatrice. Deux nouveaux members ont livré leur premier discours « briser la glace », Lilian en anglais et Véronique en français.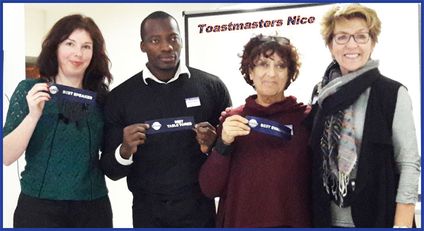 Meetng/Réunion 16.01.2017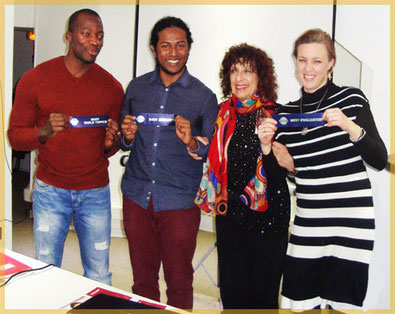 Winners L/R Best Improvisation Alassane, Best Speech Hakim, Hostess Pandora and Best Evaluation Anne.
Hakim was the winner with a beautiful presentation PowerPoint on perfume including the iconic 'legend of Chanel N° 5'
Hakim a été le gagnant avec une présentation PowerPoint ludique consacrée au parfum et à la légende énigmatique et emblématique de Chanel N° 5.
It was freezing outside, BUT 21 members and guests enjoyed a warm and friendly evening together. Guillaume introduced some highly interesting table topics, including Solomon at work in his underwear. The 4 speeches were of a very high standard with excellent preparation. The improvisations, speeches and general programme received good evaluations and feed-back from Joelle's techno- team. We did run a little late, but we will watch this for next time which will be on February 6. See you !
Il faisait froid dehors, MAIS nos 21 membres et invités ont apprécié une soirée conviviale et chaleureuse. Guillaume a présenté des improvisations très intéressantes, en particulier celle de Solomon au bureau dans ses sous-vêtements. Les 4 discours étaient d'un niveau très élevé. Les improvisations, les discours et le déroulement du programme ont reçu de bonnes évaluations de l'équipe technique de Joëlle. Nous avons terminé la soirée un peu en retard mais nous allons faire attention lors de prochaine réunion qui se tiendra le 6 Février. À bientôt!
---
Réunion/Meeting 02.01.2017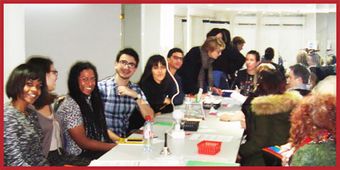 Notre première réunion de 2017 s'est bien déroulée. Maha et Hakim ont offert des improvisations étincelantes. Guillaume a livré un excellent premier discours avec lequel il a gagné. Notre hôtesse Rayyan a orchestré la soirée avec beaucoup de charme et de vitalité. Et deux invitées, très motivées, Lilian et Véronique sont devenues membres. En effet, la soirée a bien profité des efforts individuels et collectifs de tout le monde (l'objectif principal de Toastmasters). Alors, on se reverra bientôt le 16…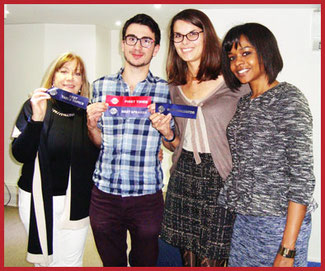 Our first meeting of the New Year promised well for our club. Maha and Hakim produced some exciting Table Topics. Guillaume gave a first-class and winning Icebreaker speech. Our Hostess, Rayyan, orchestrated the evening with great charm and vitality. AND two highly motivated new members, Lilian and Véronique, joined us for the coming year. The evening owed much to individuel and team effort which is, after all, the main objective of Toastmasters. See you all again soon on the 16th…