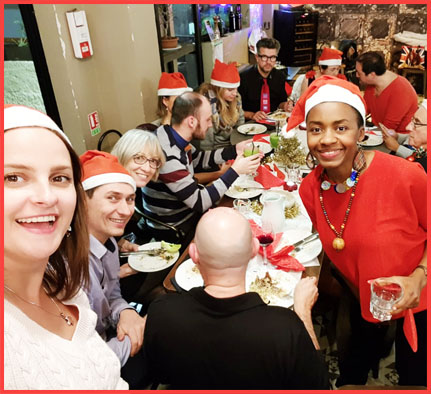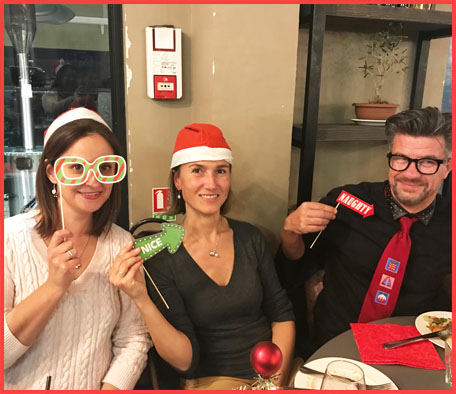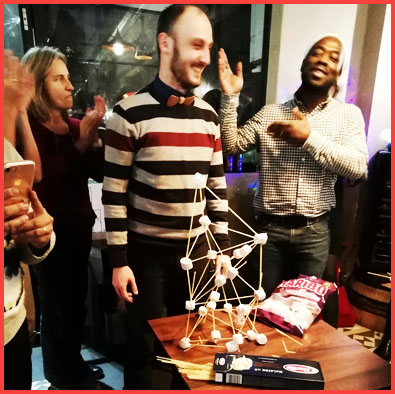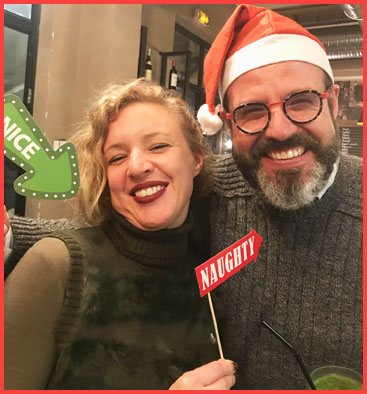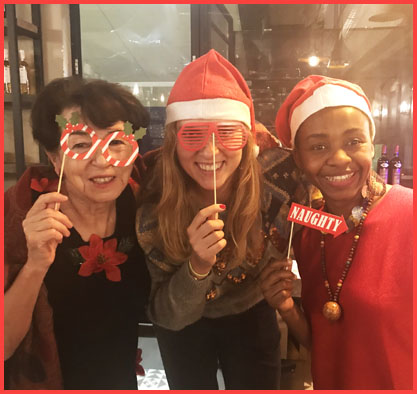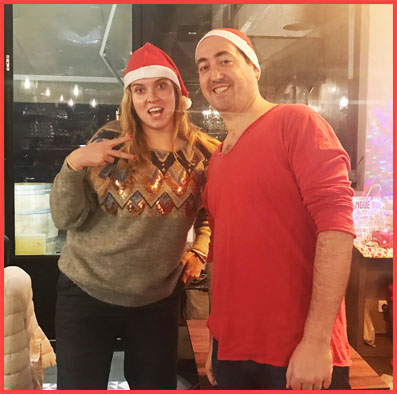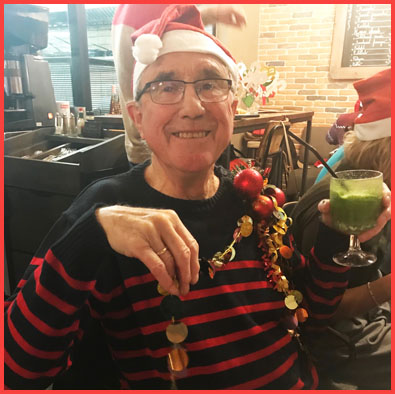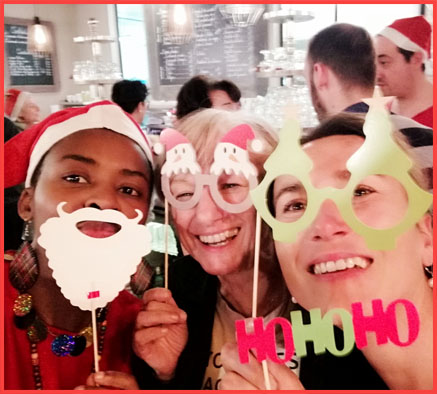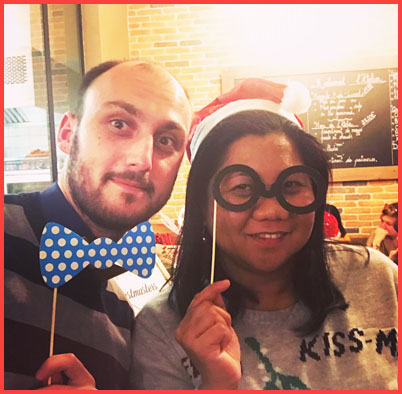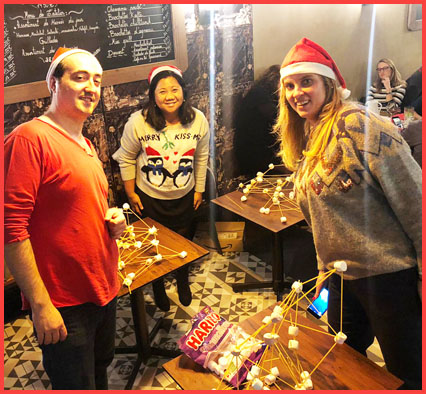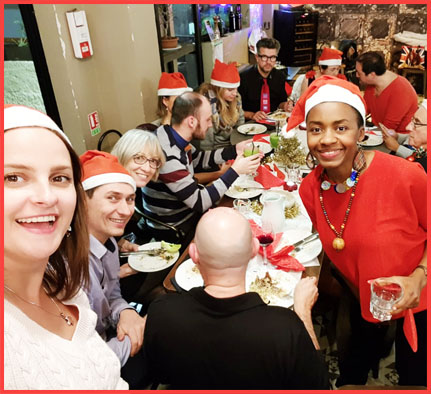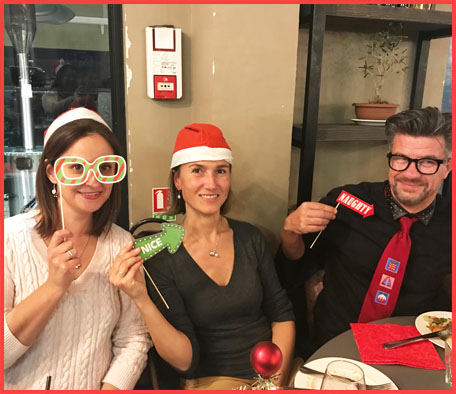 18.12.2018 Soirée Noël*Christmas Party
A fantastic evening for all our members.
Thanks a million Maricel!
Une soirée fantastique pour tous nos membres. Merci mille fois Maricel !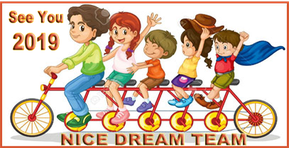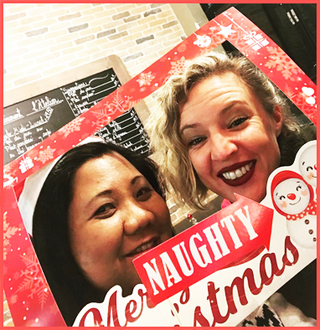 ---
Réunion / Meeting 17.12.2018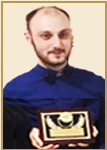 Une bonne réunion pour nos membres et invités. Nos gagnants – Maricel, Malina et Jiri ont été encouragés avec enthousiasme par notre jolie présidente, Preeti, et sa charmante fille.
Une note triste, Jiri, notre vice-président, nous quitte. Notre petit cadeau de départ reflète nos sincères remerciements pour son excellente organisation et leadership. François est heureux de poursuivre cette tâche exigeante (mais très enrichissante).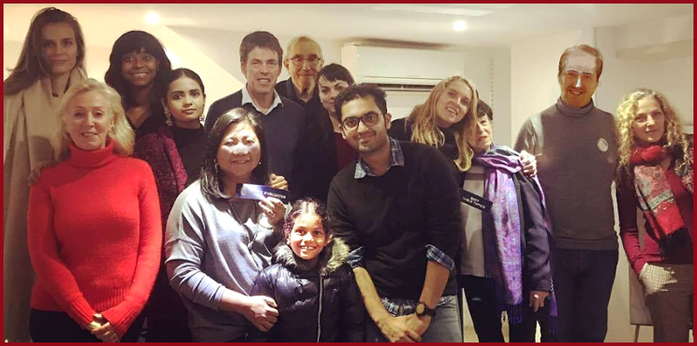 ---
Réunion / Meeting 19.11.2018
In spite of the cold weather it was a warm and friendly meeting with a lot of enthusiastic guests.
Jinnie presented her table topics out of a hat.Stress was forgottten and Jinnie's candidates happily played the game. All the speeches were well-prepared and well received by the audience. This made evaluations an agreeable experience.
Thanks to Jiri and Miguel for organising a great evening..
Bravo Maggie, New Toastmasters CC (Competent Communicator).
Bravo Muriel, New member with Icebreaker Speech already accomplished.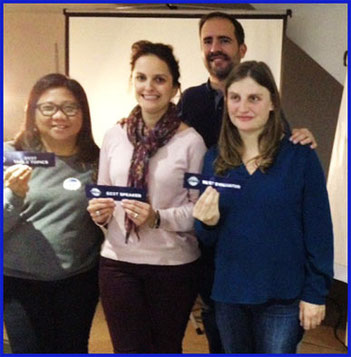 Malgré le froid, la réunion a été chaleureuse et conviviale avec des invités enthousiastes. Jinnie a présenté ses Improvisations en mode de tirage au sort. Le stress a été oublié et les intervenants ont bien joué le jeu. Tous les discours étaient bien préparés et livrés à un auditoire très réceptif. Cela a rendu les évaluations une expérience agréable. Merci à Jiri et Miguel pour l'organisation d'une excellente soirée.
Winners/Gagnants – See Photo
*Maricel Tabletopics/Improvisations
*Cristina Speech/Discours
*Anaelle Evaluations
---
Special Halloween Meeting 05.11.2018
Quelle soirée ! Un vrai 'Bal des Vampires'. Mais surprise, surprise, une visite du Président de Toastmasters International, Lark Doly, qui nous a ébloui par son élégance et son éloquence. En plus, Essenam, Présidente de Toastmasters Togo, a également ajouté une touche de magie au déroulement de la soirée. Elena, Paul et Alexis ont assisté nos sorciers, fantômes, squelettes et vampires (en autres termes, nos membres) d'organiser des présentations fantasmagoriques. MAIS, avant tout, nos remerciements à notre 'Reine des vampires', Maricel.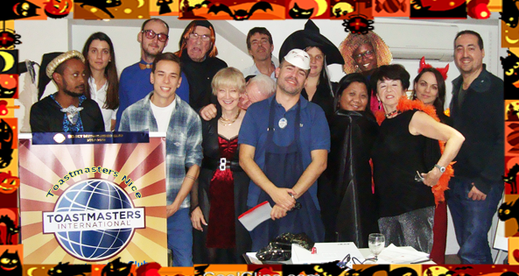 Halloween Winners…
*Maricel – Best Speaker
*Maggie – Best Table Topic
*Maggie – Best Evaluation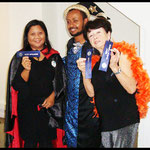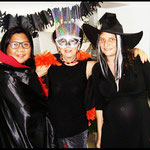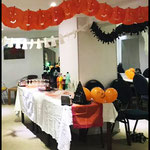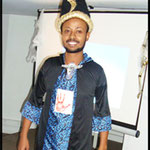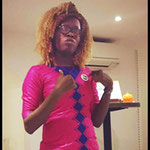 What an Evening !!! A real Blood-curdling Vampire Party with Surprise! Surprise! a visit from the President of Toastmasters International, Lark Doly whose elegant and eloquent presence inspired us all. Another very glamourous guest, Essenam, President of Toastmasters in Togo who added some real magic as Chief Evaluator. Elena, Paul and Alexis joined our resident witches, wizards, ghosts, skeletons and vampires (in other words our club members) for some fearful and spooky oratory. Above all a SUPERnatural THANK YOU to our 'Vampire Queen', Maricel for organizing it all.
---
Marathon 29.10.2018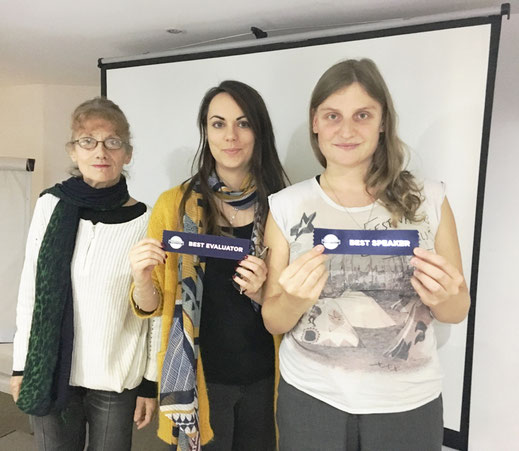 Nous avons eu une session spéciale… le 1er marathon de discours préparés de cette année.
Nos membres ont hâte de progresser, ainsi Jiri, notre VP Education, a concocté une série de marathons.
Anaëlle, Jenny, Michael et Miguel ont préparé des discours pour leurs projets du nouveau programme Pathways. Nous avons appris davantage sur l'histoire de Nice, les vies de Michael et de Miguel, et le style de communication de Jenny.
Félicitations et merci à tous pour cette session très intéressante!!!
HOSTS : *Jiri and Maggie
Winners : *Anaëlle – Best Speaker *Jenny – Best Evaluation
We had a special speech-only marathon, the 1st of this year.
Our members want to progress quickly, so Jiri, our VP Education, organised an ongoing series of marathons.
Anaëlle, Jenny, Michael et Miguel gave four speeches part of different projects of the new Pathways program. We've learned more about the history of Nice, the lives of Michael and Miguel, and Jenny's communication style.
Thank you and congratulations to all for this interesting session!!!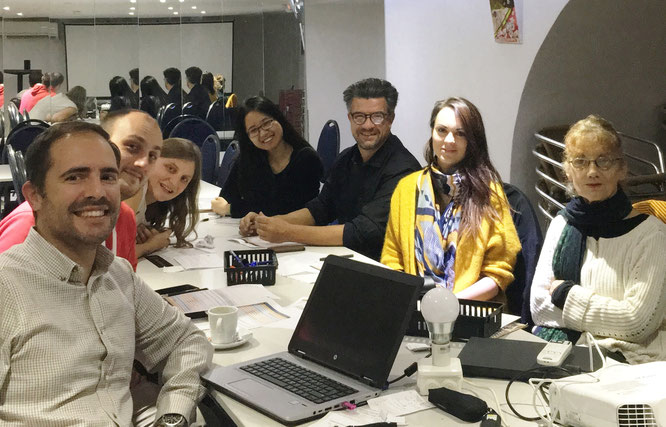 ---
Réunion / Meeting 15.10.2018 Yet another beautiful session on a cool autumn evening. We had our intellectual themed table topics orchestrated by David. Not to forget our four incredible speeches that touched upon Mental health, Music, Bird stories and Terrorism. Our guests added spark to our session by their congeniality and warmth. In a nutshell, an evening well spent with beautiful people, delicious tapas and a fruitful learning experience.
Winners
*Frederick Jodogne – Best Speaker
*Michael Gieser – Best Table Topic
*Maricel Sanchez our Best Hostess
& *Maggie Thorogood and Michael Gieser – Best Evaluation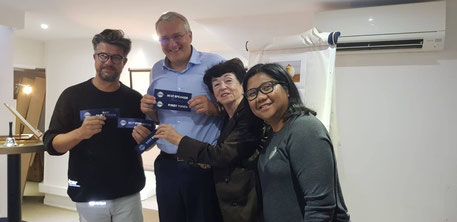 Encore une belle session lors d'une fraîche soirée d'automne. Nos improvisations à thème intello ont été orchestrées par David. N'oublions pas nos quatre discours incroyables sur la santé mentale, la musique, les histoires d'oiseaux et le terrorisme. Nos invités ont rajouté du peps à notre session par leur convivialité et leur chaleur. Bref, une soirée bien passée avec des belles gens, des tapas délicieux et une expérience éducative fructueuse.
---
Réunion / Meeting 1.10.2018
What an evening it was, despite the bad weather. We had the most marvellous of guests, creative table topics, fantastic inauguration ceremony of our two new members along with that, as an icing on the cake we also had the privilege to welcome our Area Director to grace our club with his eminent presence.
Winners
*Anaelle Berlier – Best Speaker
*Fredrick Jodogne – Best Table Topic
*Maggie Thorogood our Best Hostess and *Frank Thorogood Best Evaluation
Antony Giraud- AREA DIRECTOR
C'était une belle soirée, malgré la météo.
Nous avons eu des invités merveilleux, des improvisations créatives, une cérémonie d'induction fantastique pour accueillir deux nouveaux membres.
Nous avons également eu le privilège d'accueillir notre directeur de secteur au sein de notre club. Nous lui remercions de sa présence impactante.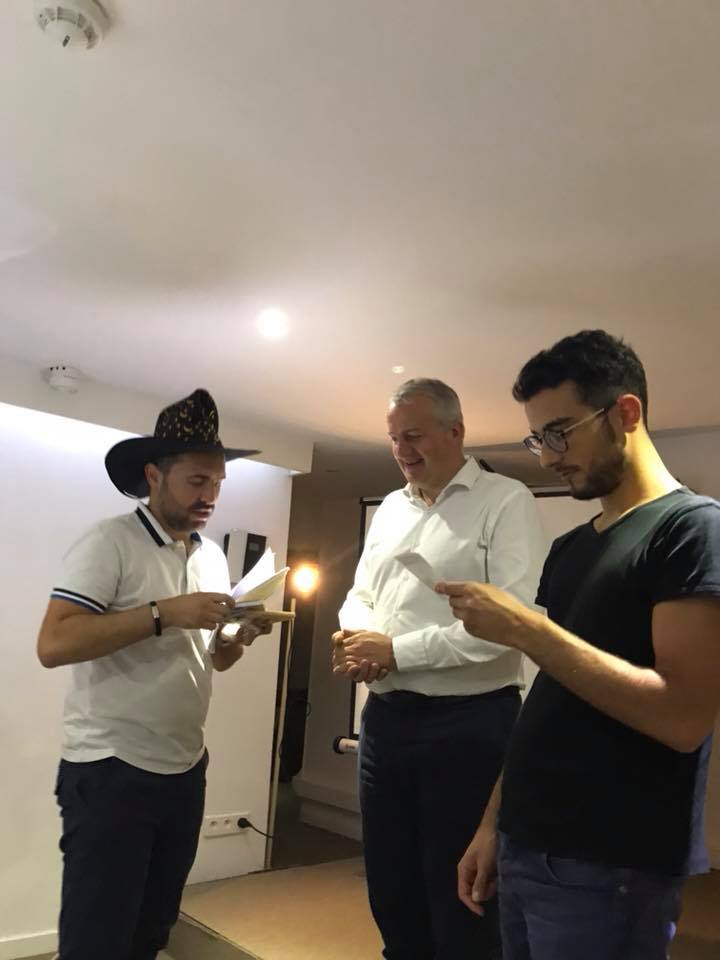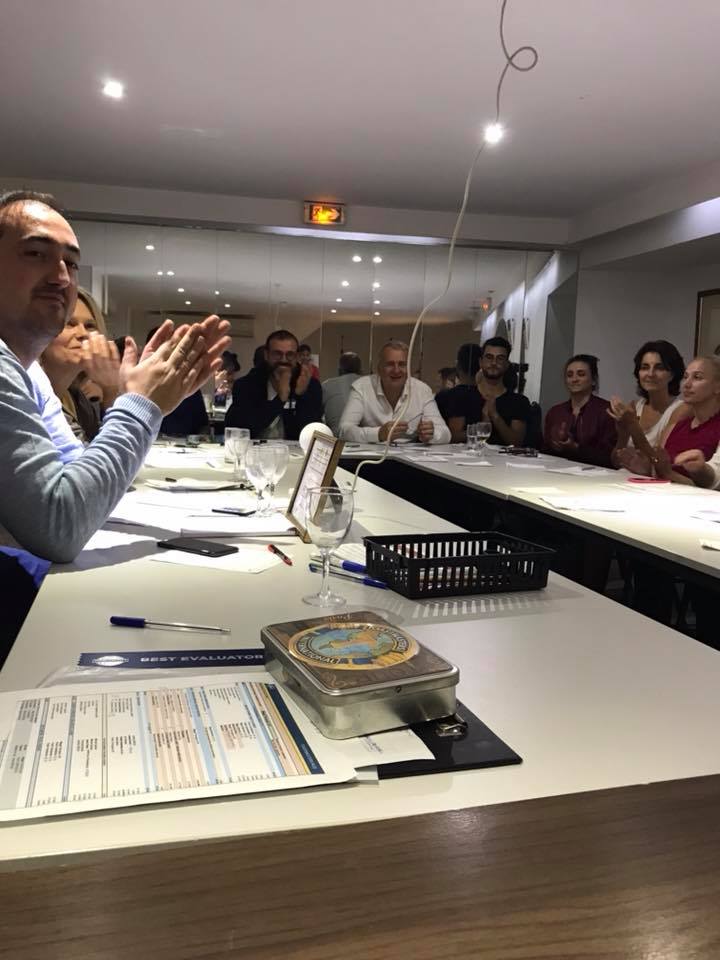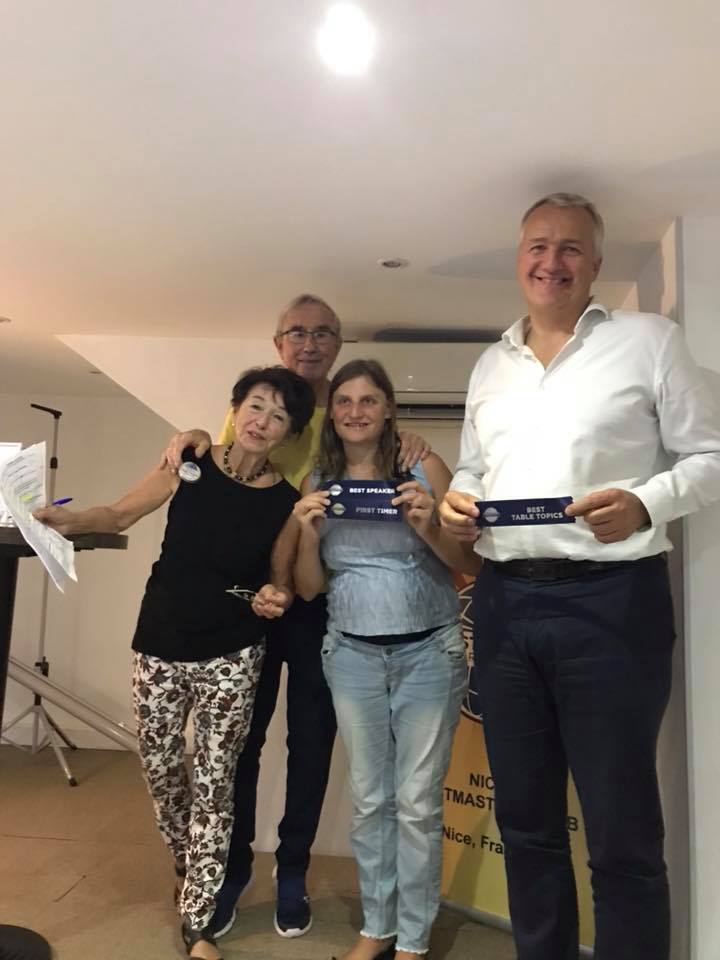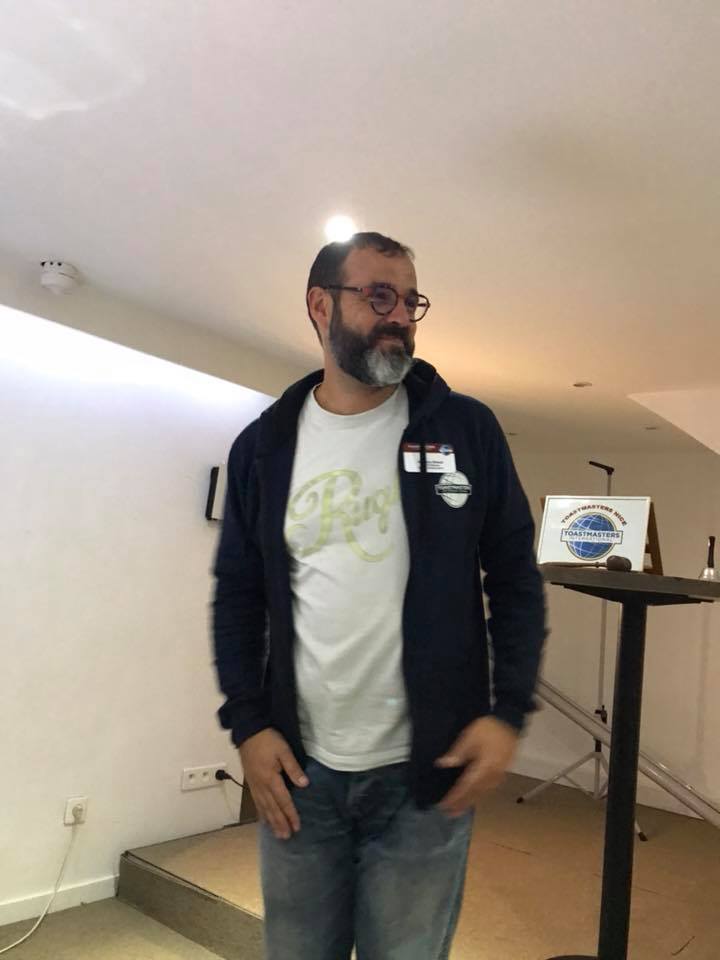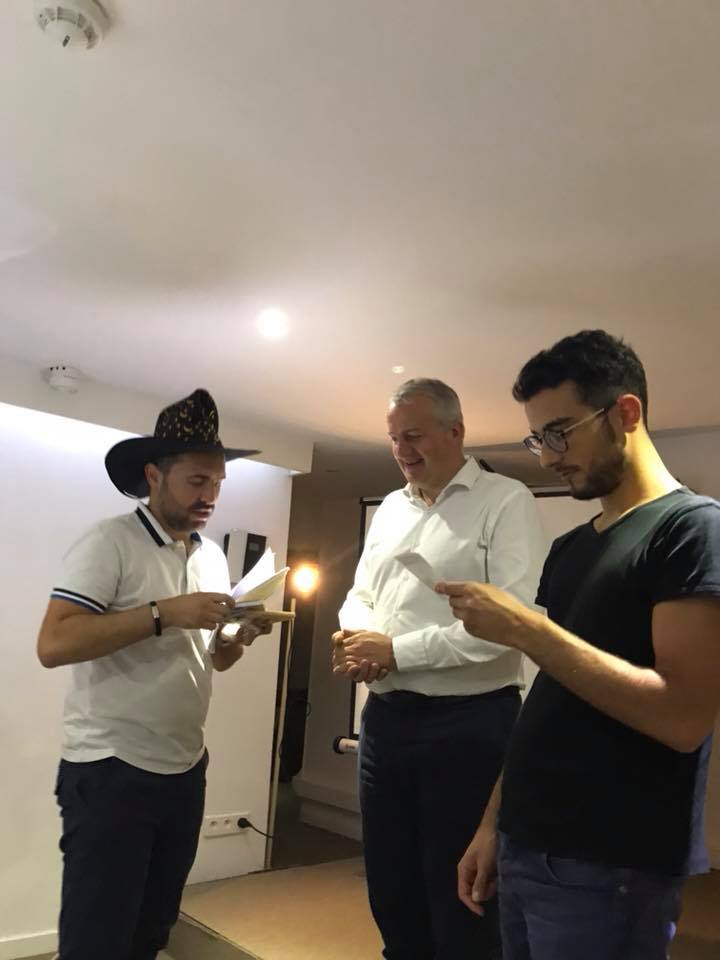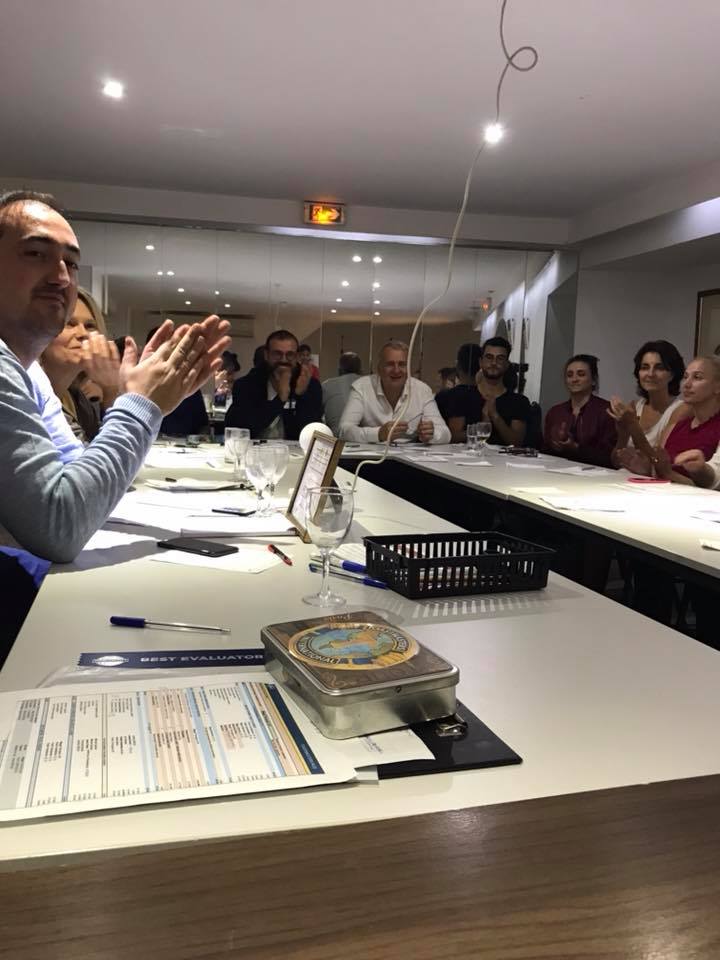 ---
Réunion / Meeting 17.09.2018
It was indeed a special evening. We had three Pathways ' Icebreaker' speeches, one from our newest dynamic member Francois, the rest from our VPPR Miguel and our founder Frank. Anne Topenot, the President of Sophia Antipolis Toastmasters club graced our session with her presence. Anaelle played a splendid host. In a nutshell, we all had a great time.
Winners
*Frank Thorogood– Best Speaker
*Anne Topenot -Best Table Topic
*Anaelle Berlier our Best Hostess
and *Maricel Sanchez Best Evaluation
Aujourd'hui, nous avons eu 3 discours "brise glace", dont celui de notre tout nouveau membre, François, mais également d'un de nos membres les plus expérimentés ( et un de nos fondateurs), Frank. Nous avons eu le plaisir de compter parmis nous Anne Topenot, la présidente du club Toastmasters de Sophia Antipolis, qui nous a ravi avec ses interventions. Anaëlle a été géniale en tant qu'hôte de la soirée.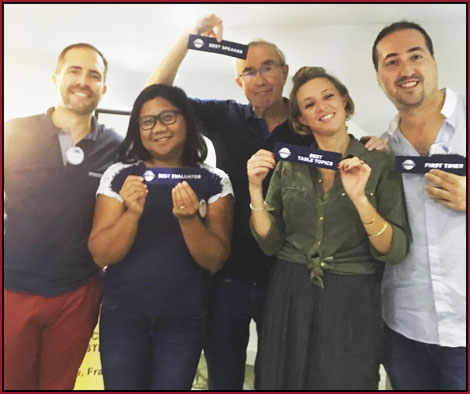 ---
Réunion/ Meeting 03.09.2018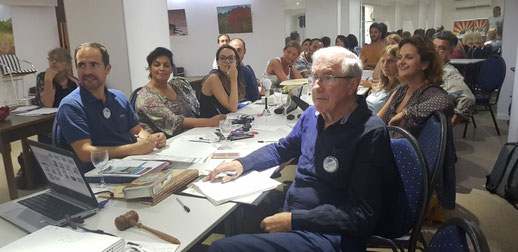 The first meeting after a long vacation. A great start to the new Toastmasters year. It was an evening filled with lots of fun and good humour from both guests and members. Stress and worry seem to have been forgotten with some excellent table topics from Amha followed by well-rehearsed and entertaining speeches from our members.
Winners
*Maricel Sanchez- Best Speaker
*Maricel Sanchez -Best Table Topic
*Preeti Venkateshan our Best Hostess and
*Frank Thorogood Best Evaluation
C'était la première réunion après de longues vacances. Un bon début pour la nouvelle année Toastmasters. C'était une soirée remplie d'amusement et de bonne humeur grâce à nos invités et nos membres. Le stress et les préoccupations semblent avoir été oubliés avec les excellents sujets d'improvisation d'Amha suivis de discours bien préparés et divertissants de nos membres.
---
Réunion/ Meeting 16.07.2018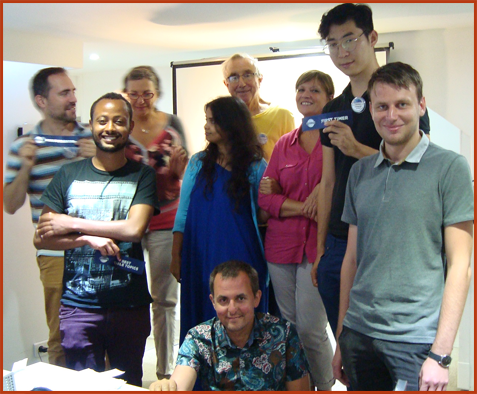 Our last meeting before the Summer Break was small but very Lively. We enjoyed an active participation from our guests, from Maxim, Kristyna and Véronique. Haichun thoroughly enjoyed his 'Initiation Ceremony' and gave his first speech straight after. All our speakers seemed to reflect the joyful atmosphere of the World Cup. So, enjoy your Holiday. See you soon, Monday, September 3.
Winners
*Jiri Semmler– Best Speaker
*Amha Bekele -Best Table Topic
*Frank Thorogood our Best Host and
*Miguel Monteiro Best Evaluation
Notre dernière réunion avant les vacances d'été était petite mais très animée, surtout par nos invités, Maxim Kristyna et Véronique. Aprés une Joyeuse 'intronisation', Haichun a livré son premier discours. En effet, tous nos orateurs semblaient refléter l'atmosphère joyeuse de la Coupe du monde. Donc, Bonnes Vacances. A bientôt – Lundi 3 septembre.
---
Réunion/Meeting 02.07.2018
A really 'cool' evening in spite of the heat. Speakers seemed to forget their stress and our guests happily contributed to the evening. In fact, everybody was a 'winner'. However here are our official Winners who really earned their ribbons...see you all soon on 16 July our last meeting before holidays.
Une soirée vraiment «cool» malgré la chaleur. Les orateurs semblaient oublier leur stress et nos invités ont grandement contribué à cette joyeuse soirée. En fait, tout le monde était un «gagnant». Cependant, voici nos gagnants officiels qui ont vraiment gagné leurs rubans ….A très bientôt le 16 juillet notre dernière réunion avant les vacances.

Best Table Topic *Smita (guest)
Best Speakers * Smita (guest) and Amha
Best Evaluatiors *Jinni and Maxim (guest)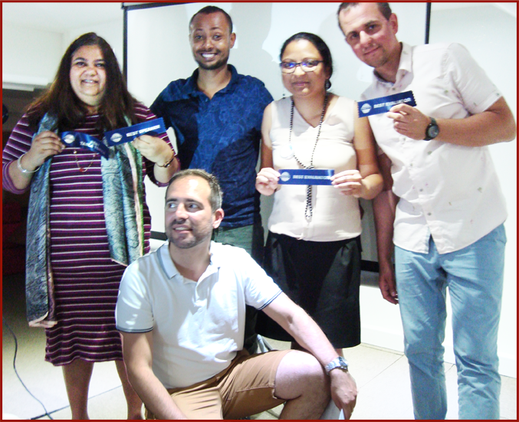 ---
Réunion/Meeting 25.06.2018

A very special evening with the election of our new and very motivated club officers.
Une soirée très spéciale présentant nos nouveaux membres du bureau pour 2018-2019.
Gagnants/Winners
Best Speaker/Orateur : Maricel
Best Evaluation : Antony
Hotesse de la soirée, Malina, très appréciée par son auditoire.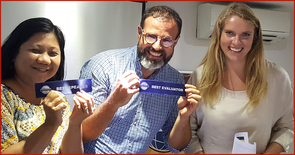 ---
Réunion/Meeting 07.05.2018
Our meeting was interesting thanks to the visit of an experienced Toastmaster from the USA, Ole, who gave us some worthwhile tips. This brought home the fact that Toastmasters is a big family with 15,900 clubs world-wide always ready to welcome a visit from another club member. In most European cities (and elsewhere) a visiting Toastmaster can find a club and enjoy a friendly meeting. So, when next abroad, find and contact a club ….
https://www.toastmasters.org/find-a-club
Winners/Gagnants : *Evaluations: Malina
*Table Topics/Impros. Frank *Speech/Discours Jenny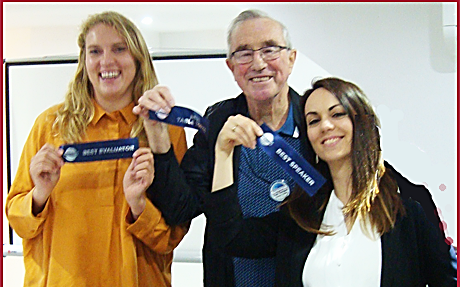 Une Réunion très intéressante grâce à la visite d'un Toastmaster expérimenté des Etats-Unis, Ole, qui nous a donné beaucoup de conseils utiles. Cela nous rappelle que Toastmasters est une grande famille avec 15,900 clubs dans le monde toujours prêts à accueillir un membre en visite. En Europe (et ailleurs) un Toastmaster peut contacter un club afin d'assister et profiter d'une réunion amicale et agréable. Alors, la prochaine fois en visite en Europe où ailleurs contactez …
https://www.toastmasters.org/find-a-club
---
Preeti's Marathon 28.04.2018 Special Member Event…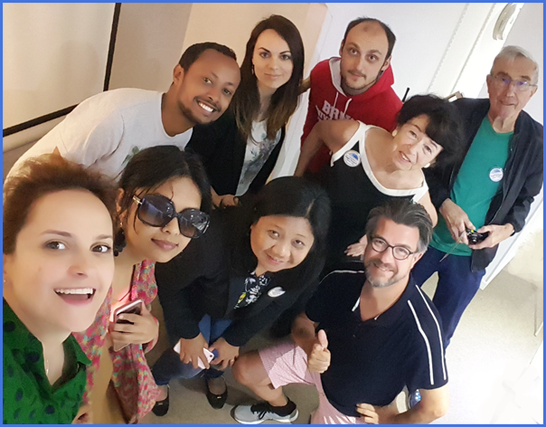 A great afternoon dedicated to encourage member progress in their oral communication. The atmosphere was enthusiastic with excellent presentations. Many thanks to Preeti for organising this event which will be repeated check Preeti
Maggie with her two 'Marathon Men' winners/gagnants
*Speech/Discours Michael / *Evaluation Amha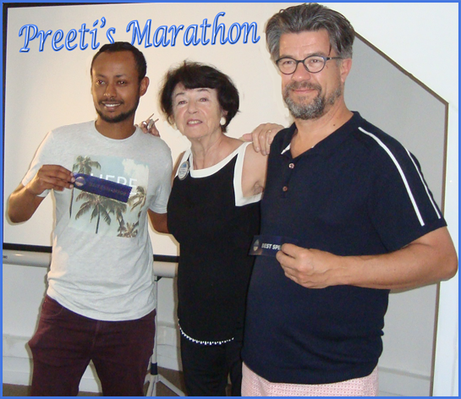 Un excellente après-midi dédié à encourager nos membres à progresser dans leur communication orale. L'atmosphère était enthousiaste avec d'excellentes présentations. Un grand merci à Preeti pour l'organisation de cet événement qui sera répété check Preeti
---
Réunion / Meeting 23.04.2018
What an evening! Maricel displayed her trophy (first place Area Speech Contest). Michael achieved second place. Antony, our guest of honour, gave anexceptional presentation of the new Toastmaster's Pathways System? So much so that Miguel and Preeti will be putting it into practice for our next meeting on23 April. Don't miss it!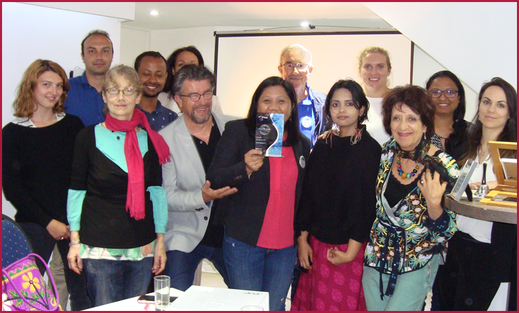 Maricel sharing her success and trophy with club members as 2nd place winner of the Interclub Speech Contest in Avignon.
Members, check out PATHWAYS. It is modern, informative and highly practical. Thank you, Antony, for an excellent presentation.
Maricel partage son succès et son trophée avec les membres du club en tant que gagnante (2ème place) du concours Inter-club à Avignon.
---
Réunion/Meeting 26.03.2018
Winners :
Toastmaster of the Evening * Michael
Table-Topics/Improvisations * Maggie
Prepared Speech/Discours Préparé * Maricel
Evaluation * Frank
16 members and guests contributed to a smooth and pleasant meeting mainly due to Michael, our Toastmaster of the evening who very discreetly managed some last minute programme cancellations. There was a 'magical' introduction ceremony for new members, Jenny and Amha and Jinnie took the plunge to become a new member.
Veuillez noter samedi le 7 avril, nos gagnants représenteront notre club aux Concours (niveau Secteur) pour les Evaluations et pour les Discours Préparés chez Toastmasters Sophia Antipolis (détails Miguel). Ce sera une belle journée et tout le monde est invité afin de soutenir notre club.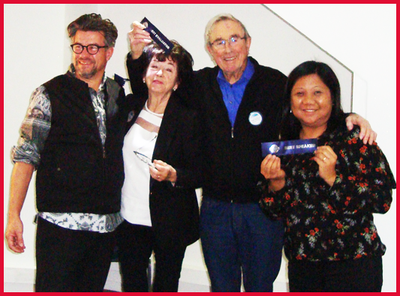 Please note on Saturday April 7th, our winners will represent our club at the Contests (Area level) for the Evaluations and for the Prepared Speeches at Toastmasters Sophia Antipolis (details Miguel). It will be a beautiful day and everyone is invited to support our club.
---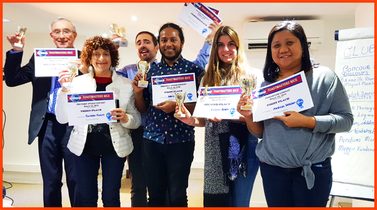 Les dirigeants du club ont fait un excellent travail afin d'assurer que les présentations de nos membres étaient conformes aux critères stricts du concours Toastmasters. La photo ci-dessus montre que la coopération, le travail acharné et la réussite peuvent être une expérience heureuse et satisfaisante.
19.03.2018
Concours Discours/Speech – Contest Discours Préparé fr.
1er Miguel Montiero – 2ème Anaëlle Berlier
Evaluations fr.
1er Miguel Monteiro – 2ème Pandora Morcas
Prepared Speech Eng.
1st Hakim Luqman – 2nd Frank Thorogood
Evaluations Eng.
1st Maricel Sanchez – 2nd Barbara Alvarez
Club leaders did an excellent job to ensure that our members' presentations conformed to the strict Toastmasters contest criteria. The above photo shows that cooperation, hard work and achievement can be a happy and satisfying experience.
---
Meeting/ Réunion 05.03.2018
Well, another big turnout with 12 guests and 2 NEW members. One of our guests, Paula, was voted best Table-Topics speaker, talking seasonably about Spring Cleaning. The Best Speech was from Anaelle on being Multilingual. Solomon won as Best Evaluator, persuading Rayyan to use fewer notes.
Eh bien, une autre grande participation avec 12 invités et 2 Nouveaux Membres. L'une de nos invitées, Paula, a gagné des Improvisations avec un bon 'nettoyage de Printemps'. Le meilleur Discours était d'Anaelle sur le fait d'être multilingue. Solomon a été élu meilleur Evaluateur, persuadant Rayyan d'utiliser moins de notes.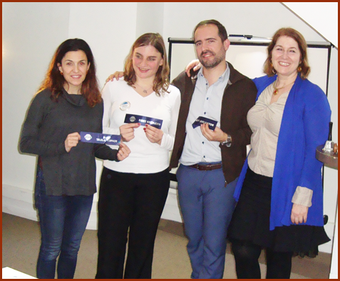 ---
Another very active evening with Maggie (President replacing Miguel). Maricel (Toastmaster of the evening) conducted a full programme and helped Maggie welcome *15* highly motivated guests.
Jiri (Table Topics Master) gave an imaginative choice of situations for both guests and members. Michael (our newest member) was officially and affectionately 'enthroned' by Anaelle our VP Membership. We then enjoyed three meaningful, and well researched speeches from Marie Françoise, Malina and Mike which encouraged incisive and pertinent evaluations from Rayyan, Barbara, Hakim and Frank. In fact an evening rich in observation, listening and learning for us all. See you all again soon on the 5 March.
Meeting/ Réunion 19.02.2018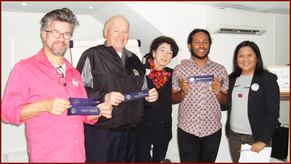 Winners L/R Gagnants
Discours/Speech, Mike
Improvisation, Bob (guest)
Evaluation, Hakim
'Touche féminine', Maggie é Maricel
Une soirée très active avec Maggie (Président par intérim). Maricel (Toastmaster de la soirée) a mené un programme complet et a aidé Maggie à accueillir *15* invités très motivés.
Jiri (Table Topics Master) a offert un choix imaginatif de situations pour invités et membres. Michael (nouveau membre) a été officiellement et affectueusement 'intronisé' par Anaelle, notre vice-présidente des adhésions. Nous avons apprécié trois discours significatifs et bien documentés livrés par Marie Françoise, Malina et Mike qui ont encouragé des évaluations incisives et pertinentes prononcées par Rayyan, Barbara, Hakim et Frank. En fait une soirée riche en observation, d'écoute et d'apprentissage pour nous tous. À bientôt – le 5 mars prochain.
---
Meeting / Réunion 05.02.2018
Monday was a great evening with 24 members and guests all happily participating in our Toastmaster Programme. This underlined the fact that listening, learning and speaking can be great fun. Table Topics covered love, laziness, paradise and a dog show. Our 4 great orators spoke about an uncaring genius, calm mover, a fighting female and a second chance – all beautifuly presented. Our Evaluators had an easy and enjoyable time with such good speeches and 'hats off' to the techno team (our club watch-dogs). Well, a Happy Ending, Mike, our versatile and motivated guest became a member. See you soon on the 19th February, yours Maggie
Notre Réunion lundi a été une soirée formidable avec 24 membres et invités qui ont tous joyeusement participé à notre programme Toastmasters. Cela a souligné le fait que l'écoute, l'apprentissage et la parole peuvent être très amusants. Les Improvisations ont couvert l'amour, la paresse, le paradis et un chic chien. Nos 4 orateurs ont parlé d'un génie insouciant, d'un voyageur malgré lui, d'une femelle combattante et d'une seconde chance – tous joliment présentés. Nos Evaluateurs ont eu un temps facile et agréable avec de tels bons discours et 'chapeau' à l'équipe techno. (les chiens de garde de notre club). Eh bien, une fin heureuse, Mike, notre invité polyvalent et motivé est devenu membre. A bientôt, le 19 février, Maggie
left/gauche – Miguel, Président – Maricel, gagnante Discours – Yan, gagnant Improvisations – Hakim, gagnant Evaluations – Preeti, Toasmaster de la soirée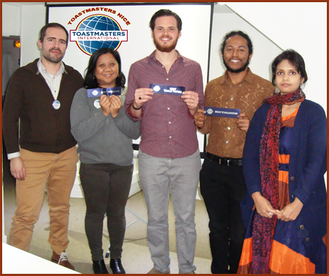 ---
Meeting 08.01.2018 Réunion
The Nice Toastmaster's team was back full of vigor and good intentions for 2018. L'équipe de Nice Toastmasters était de retour pleine de vigueur et de bonnes intentions pour 2018.
Winners/Gagnants: Hakim – Speech/Discours, Maricel – Evaluation, Alise(guest/invitée) – Impros.,
Barbara & Jiri – 1er Discours/1st Speech, Introductions – Frank & Annaelle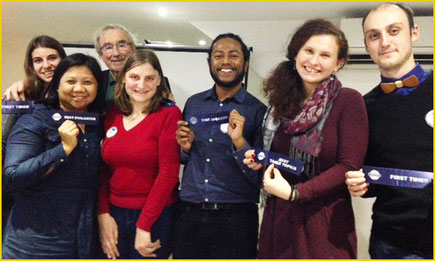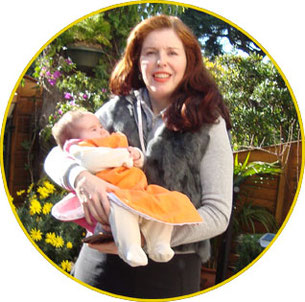 Ex-Toastmaster Maman, Susan, avec sa fille, Lucie (agéé de 10 semaines) souhaitant à tout le monde une BONNE ANNÉE 2018!