Meeting/Réunion 16.12.2019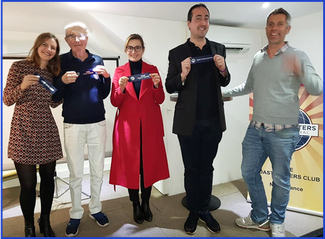 Winners/Gagnants Table Topic/Impros.: Frank & Nathalie Speech/Discours: Deyana Evaluation: François
Toastmaster Host: Jérémy

We had a great year in 2019 organising meetings, events, conferences and presentations. We all look forward to a bright and successful 2020 with its creative cocktail (listening * thinking * speaking) working its usual magic. . See you soon on 06.01.2020

Nous avons eu une excellente année en 2019 en organisant des réunions, des événements, des conférences et des présentations. Nous attendons tous avec impatience une année 2020 brillante et réussie avec son cocktail maison (écouter * penser * parler) faisant sa magie habituelle. A bientôt au 06.01.2020
---
Meeting/Réunion 02.12.2019
25 members and guests contributed to a very lively and international evening. This was not surprising with 16 different nationalities present full of energy and vocal variety. François introduced a selection of imaginative improvisations. Safae was our delightful hostess of the evening. The speeches were interesting and extremely well-prepared which made our evaluators very happy.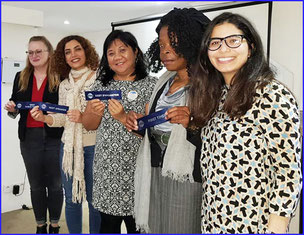 Gagnants Impros.: Shanon Discours:Mehrasa *Evaluation: Maricel First Timer:Martine
25 membres et invités ont contribué à une soirée très animée et internationale. Cela n'était pas surprenant avec 16 nationalités différentes présentes, pleines d'énergie et de variété vocale. François a présenté une sélection d'improvisations imaginatives. Safae était notre charmante hôtesse de la soirée. Les discours étaient intéressants et extrêmement bien préparés, ce qui a fait le bonheur de nos évaluateurs.
---
Meeting/Réunion 18.11.2019Another amazing evening with 28 members and guests. We have many different nationalities in our club and at this meeting we welcomed our new Member, Martine, who jumped in immediately to offer an excellent 'off the cuff' Improvisation. Our Star Guest from Toastmasters Amsterdam, Sangbreeta gave a stupendous/hilarious Evaluation of our winning « deeply romantic and seductive » speaker, Michael Finally we all crowded around Mehrasa to wish her a Happy Birthday. So, with Happiness, Success and Romance in the air we ended our meeting ON TIME.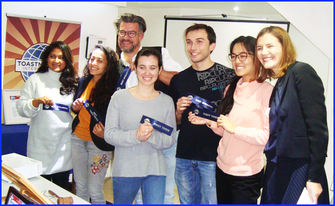 Winners: Table Topics: Maha * Speaker: Michael & Loan * Evaluator: Sangbreeta First-Timers: Loan, Elisa & Vanessa * Hostess: Deyana
Une autre soirée ludique avec 28 membres et invités. Nous avons beaucoup de nationalités différentes dans notre club et lors de cette réunion, nous avons accueilli notre nouveau membre, Martine, qui a immédiatement pris la parole afin de présenter une excellente improvisation. Notre invité d'honneur de Toastmasters Amsterdam, Sangbreeta, a présenté une évaluation stupéfiante et hilarante de notre orateur gagnant «profondément romantique et séduisant», Michael. Ainsi, avec le Bonheur, le Succès et la Romance dans l'air, nous avons terminé notre soirée à l'heure.
---
Meeting/Réunion 04.11.2019
Notre nuit d'Halloween était pleine d'horreur joyeuse et de mystère magique. Merci beaucoup, Cristina, pour les décorations imaginatives. 27 membres et invités étaient prêts à s'amuser, surtout après avoir goûté à nos tapas spéciales d'Halloween. L'atmosphère générale était, comme d'habitude, chaleureuse et conviviale. Cependant, le véritable joyau de la soirée a été le discours d'Halloween de notre président, Maricel. Elle a vécu de manière dramatique une «tempête de peur» où elle pensait qu'elle allait mourir. Son public mourait aussi, MAIS DE RIRE. C'était l'humour noir transformant l'horreur et la peur en quelque chose de follement drôle.
Our Halloween night was full of happy horror and magical mystery. Many thanks, Cristina, for the imaginative decorations. 27 members and guests were ready to enjoy themselves especially after tasting our special Halloween Tapas. The overall atmosphere was, as usual, warm and friendly. However the real GEM of the evening was the Halloween speech from our President, Maricel. She dramatically re-lived a 'storm of fear' where she thought she was dying. Her audience was dying too BUT OF LAUGHTER. This was real black humour transforming horror and fear into something wildly funny.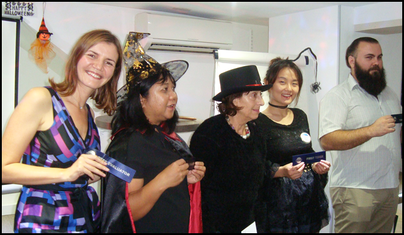 Winners: L/R Evaluations Deyana, Speech Maricel, Hostess Pandora, First-Timer Bowen, Impros. Marius (guest)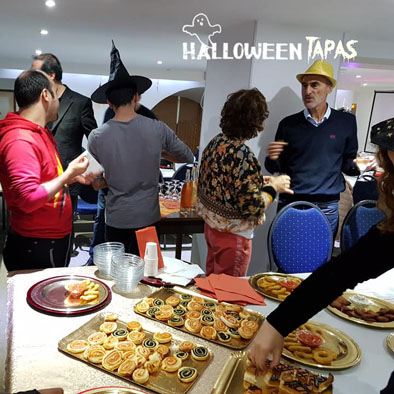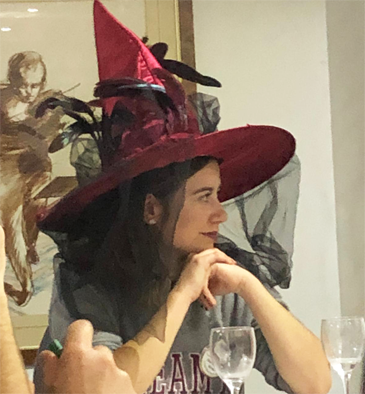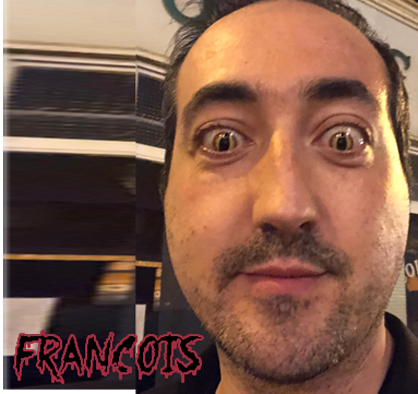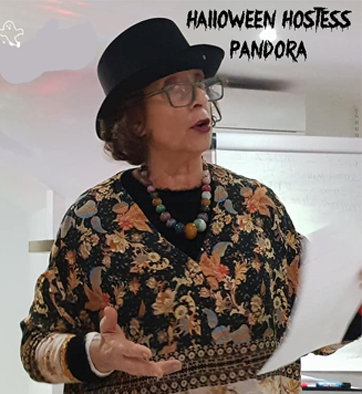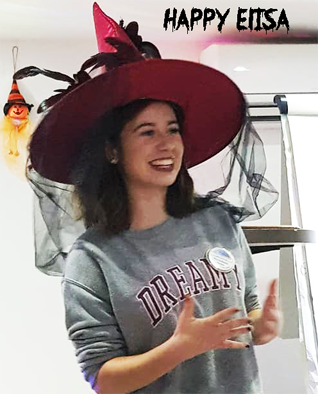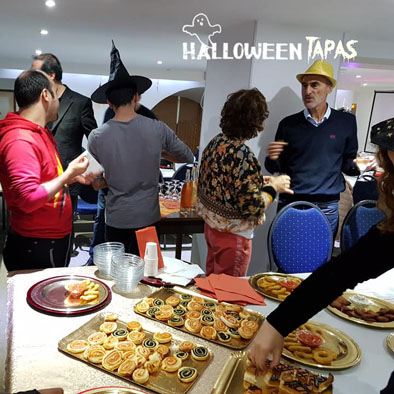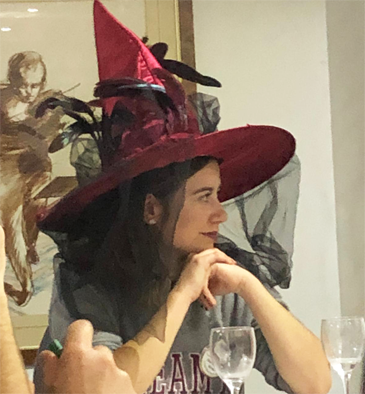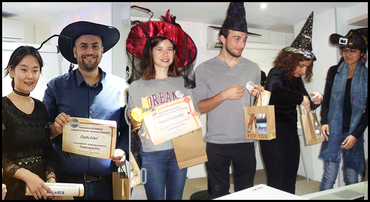 New Member Induction Ceremony
Intronisation des nouveaux membres
---
Meeting/Réunion 21.10.2019
Another active and amusing meeting with 15 members and 15 guests 7 of whom intend to become members. Preeti, ex member and now TM Area Governor was also most welcome. Jérémy gave us some unusual and fun topics. We then enjoyed 4 profoundly motivated speeches which more than deserved their excellent evaluations.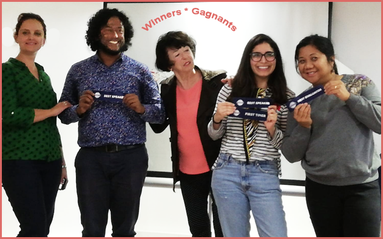 Winners: L/R Cristina, Hakim, Maggie, Safae, Maricel
Une autre réunion active et amusante avec 15 membres et 15 invités dont 7 ont l'intention de devenir membres. Preeti, ex-membre et maintenant TM Area Gouvernor était également la bienvenue. Jérémy nous a donné des Improvisations insolites et amusantes. Nous avons ensuite bénéficié de 4 discours profondément motivés qui méritaient amplement leurs excellentes évaluations.
---
07.10.2019
More and more people are coming to our meetings and feeling happily inspired and confident. As you can see from the photos our educational programme encourages participation, concentration, imagination and organisation. In fact, an excellent 'cocktail' towards self-improvement.
Chin Chin! See you soon 21.10.2019.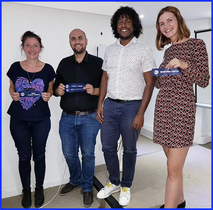 Winners/Gagnants L/R:
Table-Topics/Impros. Andrea, Speech/Discours Chafic (First-Timer Ribbon), Host Hakim & Evaluation Deyana
De plus en plus de gens viennent à nos réunions et se sentent joyeusement inspirés et confiants. Comme vous pouvez le voir sur les photos, notre programme éducatif encourage la participation, la concentration, l'imagination et l'organisation. En fait, un excellent "cocktail" vers l'amélioration de soi.
Chin Chin ! A bientôt 21.10.2019
---
16.09.2019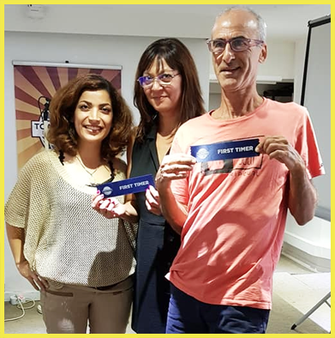 Winners/Gagnants L/R
Hôtesse : Mehrasa avec
'First-timers' Agnès & Pierre

This was a Meeting to remember, with 30 happy members and guests all contributing to a magical evening. The networking and tapas were great. We enjoyed some imaginative Table Topics followed by 4 informative and humorous speeches. The evaluation session was practical and encouraging. The evening came to an end but the warm, friendly atmosphere continued…
See you soon 07.10.2019!
C'était une réunion inoubliable. 30 membres et invités joyeux ont tous contribué à une soirée magique. Le 'networking' et tapas étaient super. Des Improvisations imaginatives étaient suivis par 4 discours informatifs et humoristiques. La session d'évaluation était pratique et encourageante. La soirée s'est terminée mais l'ambiance chaleureuse et amicale s'est poursuivie…
À bientôt 07.10.2019 !
---
02.09.2019 Une Rentrée incroyable avec 25 membres et invités * An unbelievable turn-out with 25 enthusiastic members and guests !!!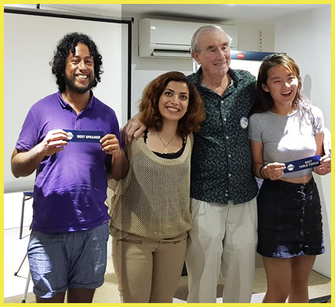 Hakim* Mehrasa *Frank * Bowen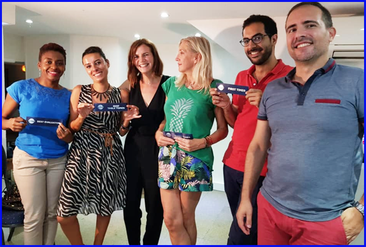 Winners/Gagnants L/R
Christelle, Zora, Deyana, Addie, Farouk, Miguel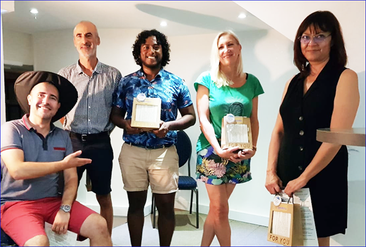 intronisation 4 nouveaux membres/new members: Pierre, Hakim, Addie & Agnès
---
15.07.2019
Sadly this is the last meeting before the summer break. However we will all be back for the "rentrée" on 2nd September 2019. In the meantime please stay in touch with us for any "special events" which we may organise in the near future.
Malheureusement, il s'agit de la dernière réunion avant les vacances d'été. Cependant, nous serons tous de retour pour la "rentrée" le 2 septembre 2019. Entre-temps, veuillez rester en contact avec nous pour tout événement spécial que nous pourrions organiser dans un proche avenir.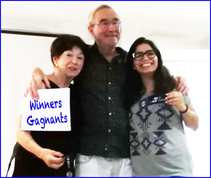 Winners: Maggie, Frank & Safae.

A great evening of 24 happy guests and members. Une belle soirée de 24 invités et membres..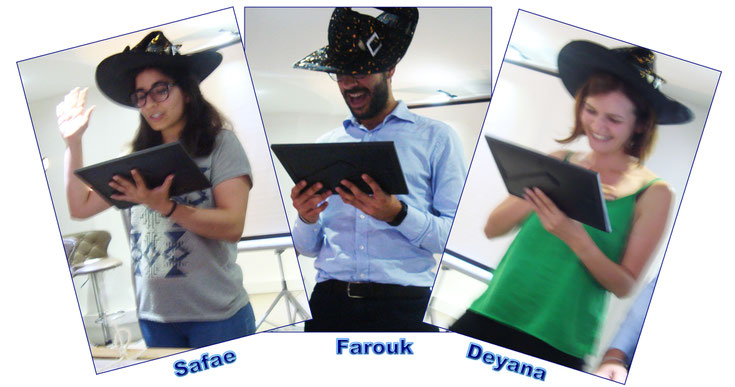 Induction Ceremony 3 new members
---
01.07.2019 A fantastic international multi-cultural evening with ELEVEN guests from all over the world.
This meeting was laughter all the way. Stress was forgotten and our guests all joined in from the very start (perhaps due to Mehrasa's warm welcome).
François introduced some very imaginative Table Topics. This was followed by 3 speeches (2 English 1 French) ; after which we enjoyed 3 diverting but profound evaluations. July 1st was 'action day' for our new team of merry Club Officers guided by Maricel (our President) and Miguel (our Vice President). Maricel and Miguel foresee many new and exciting projects for the Club!!! See you all soon on July 15th.

Welcome to Three New Members : Deyena, Farouck & Safae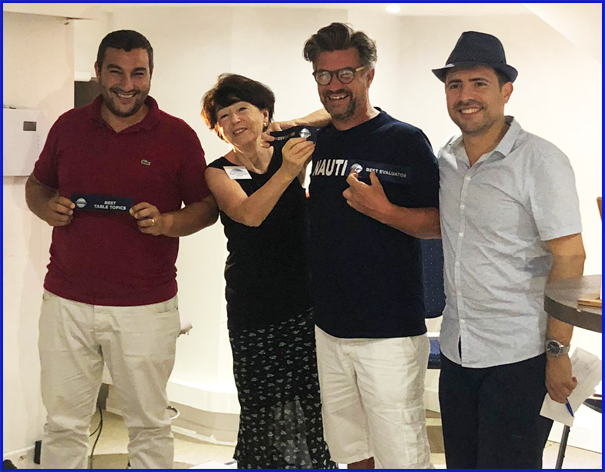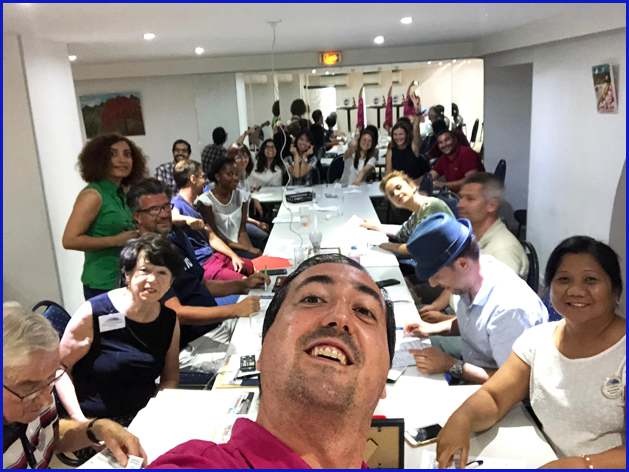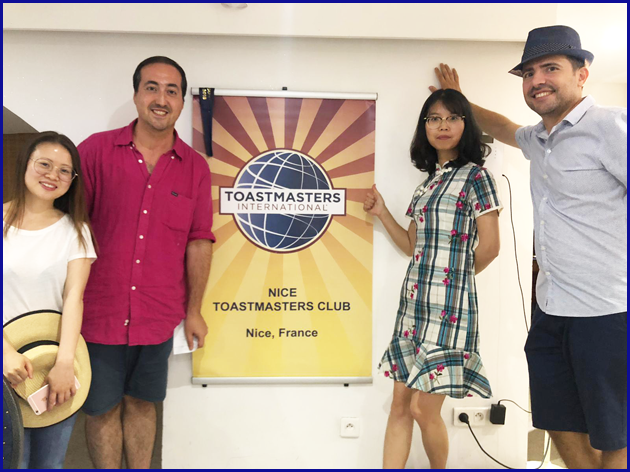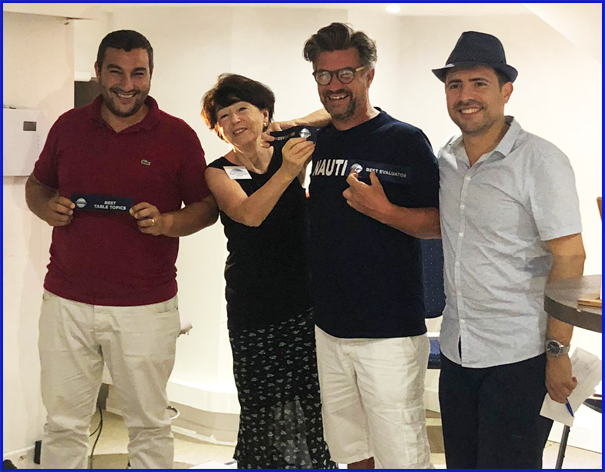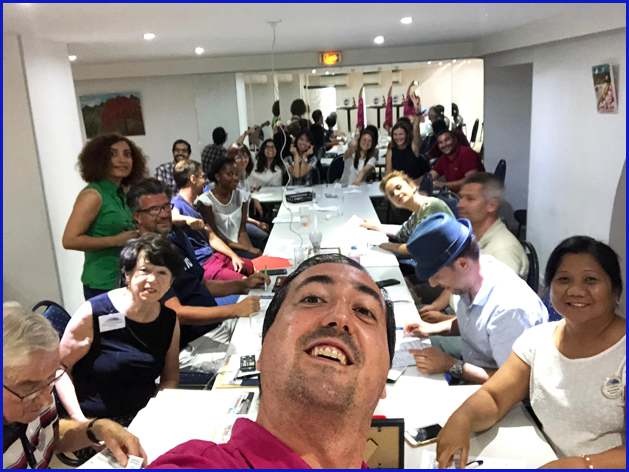 Winners/Gagnants Photo right/à droite
*ClaesTabletopics/Improvisations
*Mehrasa Speech/Discours
*Michael Evaluations avec *Jenny Hôtesse
Cette réunion était extrêmement conviviale. Le stress a été oublié et nos invités ont tous participé activement dès le début (probablement en raison de l'accueil chaleureux de Mehrasa).
François a présenté des thèmes d'Improvisations très imaginatifs. Cela a été suivi de 3 discours (2 anglais 1 français); après quoi nous avons apprécié 3 évaluations distrayantes mais profondes. Le 1er juillet était la «journée d'action» de notre nouvelle équipe de 'Club Officers' dirigés par Maricel (notre Présidente) et Miguel (notre Vice-Président). Maricel et Miguel prévoient de nombreux activités nouveaux et passionnants pour notre club!!! A bientôt le 15 juillet.
---
29.06.2019 … Sun – Sea – Song – Toastmasters Nice Beach Party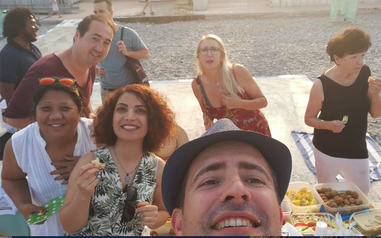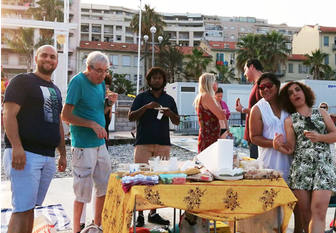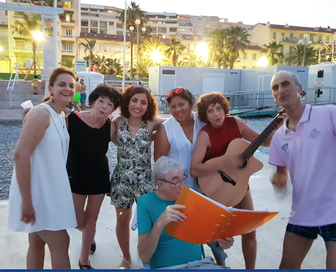 ---
L/R Cristina,François, Mehrasa, Maggie, Frank, Miguel, Maricel
23.06.2019
New Club Officers
Our new Club Committee of 7 adorable and active club members comprises 6 different nationalities. This mixture seems to enhance both motivation and imagination. Ideas were flying around at lightening speed only to slow down for a very international lunch topped with 'Durian Ice Cream'. Then, full of 'Durian' energy, back to the serious task of re-organising our Club's educational and social activities.
See you all soon!
Serious Committee members hard at work – an inspiration to us all…..
---
17.06.2019
An interesting evening with 10 members & 8 guests * Nous avons eu une soirée intéressante avec 10 membres et 8 invités
La partie intéressante consistait à reconstituer notre programme en raison des annulations de dernière minute. Cependant, notre président Preeti, avec les membres présents et nos invités, a transformé la situation en une soirée très réussie. Le thème des Improvisations était « un changement de vie» qui a déclenché des scènes très imaginatives. Surtout notre invitée et gagnante, Diana qui est partie (télé-transportée) dans la future. Nos trois discours étaient éloquents et bien préparés, avec un retour d'information et conseils précieux de la part de nos évaluateurs. Enfin, merci beaucoup à notre équipe techno qui nous a discrètement incités à respecter le temps et la grammaire et à éviter des mauvaises habitudes.
Alors, tout est bien qui finit bien. A bientôt !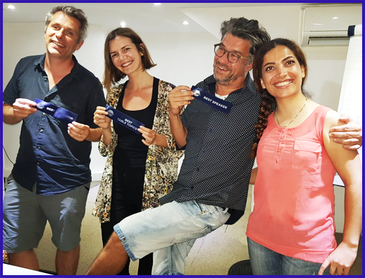 Gagnants/Winners : * Evaluation Jeremy
* Impros./Table Topics Diana
* Discours/Speech Michael * Hôtesse Mehrasa
The interesting part was to re-constitute our programme due to last-minute member cancellations. However our President, Preeti, with help from members and guests transformed the situation into a very successful evening. Preeti's 'Life changing' Table Topic theme produced imaginative scenes with our winner and guest, Diana tele-transporting herself into the future. Our three speeches were eloquent and well-prepared with valuable feed-back and advice from our evaluators. Lastly, many thanks to our techno-team who quietly disciplined us to respect the time, grammar and to avoid any bad habits. Well, all's well that ends well. See you soon
---
03.06.2019
Quelle session agréable et amusante…
Une petite réunion avec 16 membres et invités enthousiastes.
Jeremy a présenté des 'Improvisations' intrigantes et saisonnières. Deux discours colorés ont suivi – 'Life in Fruits' de Maricel et 'Mon Identité Culturelle' de François. Maggie T a évalué Maricel récompensée par de délicieuses cerises. Amha a évalué avec discernement le discours de François en offrant des conseils judicieux et utiles. En effet, ce retour constructif de notre équipe technique a été très apprécié par nos invités. Au plaisir de vous revoir le 17 juin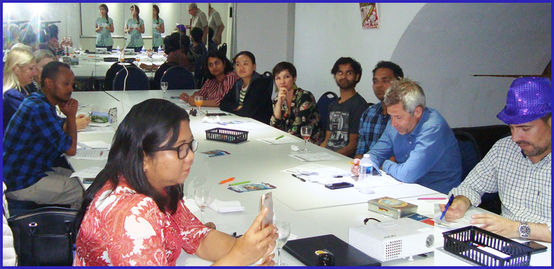 What a cosy and fun session…
A small meeting with 16 enthusiastic members and guests.
Jeremy introduced some intriguing and seasonal Table Topics. This was followed by two colourful speeches 'Life in Fruits' by Maricel and 'Mon Identité Culturelle' by François. Maggie T evaluated Maricel rewarded by some tasty cherries. Amha evaluated François' speech with great perception and helpful advice. This constructive feedback from our technical team was very much appreciated by our guests. See you all again on the 17th June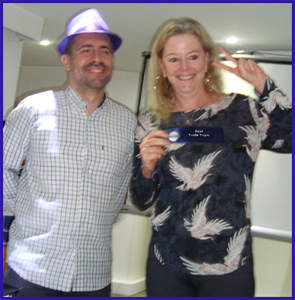 ---
20.05.2019
A great meeting with a large number of guests who actively participated in the programme. Michael's "Improvisations" had a burlesque flavour and our very new Member Jeremy, launched straight into his first 'Icebreaker' speech. Preety and Maggie V. were in 'Adventure Land' with their speeches. The Evaluations were discerning and helpful. Frank was very happy to present the new Club Officers for 2018/2019 to our members. Finally, our guest feed-back was extremely positive proving that it is easy to learn and practice in a warm and friendly atmosphere. See you on June 3.
Happy Winners
Teasing Table-Topics from Michael
Preeti chasing a man up a tree
Mehrasa with Jeremy New Member
Happy Winners
Teasing Table-Topics from Michael
Winners / gagnants: Improvisations, Maggie T.
Speeches/Discours, Preeti. Evaluations, François. First-Timer, Jeremy
Une excellente réunion avec un grand nombre d'invités qui ont activement participé à la soirée. Les "Improvisations" de Michael avaient une saveur burlesque. Notre nouveau membre, Jeremy, a prononcé son premier discours et Preeti et Maggie V. étaient au pays de merveilles avec leurs discours. Les évaluations ont été judicieuses et utiles et Frank a eu le plaisir de présenter aux membres les nouveaux officiers du club pour 2019/20. Enfin, les réactions de nos invités ont été très positives, prouvant à quel point il est facile d'apprendre et de pratiquer dans une atmosphère chaleureuse et conviviale. Rendez-vous le 3 juin.
---
06.05.2019 – Quelle belle soirée! What a fantastic evening!
A new member induction, presentation of Pathways level 1 and 2 certificates, 4 guests from other Toastmasters Clubs (Côte d'Azur, Singapour, Stockholm), 5 guests new to Toastmasters) and of course: challenging table topics, 3 prepared speeches and the corresponding evaluations!
Winners: Topics/Impros. Ouissem Speech/Discours: Maggie Evaluation: Michael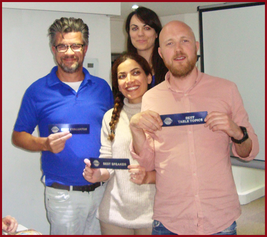 L'induction d'un nouveau membre, une présentation des certificats Pathways de niveaux 1 et 2, 4 invités d'autres clubs Toastmasters (Côte d'Azur, Singapour, Stockholm), 5 nouveaux invités à Toastmasters) et bien sûr des sujets de discussion stimulants, 3 discours préparés et les évaluations correspondantes!
---
Réunion / Meeting 15.04.2019
C'est en philosophant les thèmes d'improvisation de Jenny que nous avons commencé cette soirée menée par Miguel.
Nous avons assisté à 4 discours préparés variés et sympas: Cristina a parlé de motivation lors de son 10ème et dernier discours du parcours Orateur Compétent. Preeti nous a parlé de leadership dans la société traditionnelle indienne. Avec Maggie nous avons beaucoup rigolé d'un malentendu devenu viral dans l'ère pré-numérique. Murielle nous a montré l'importance d'avoir plus de femmes dans la finance et l'entrepreneuriat.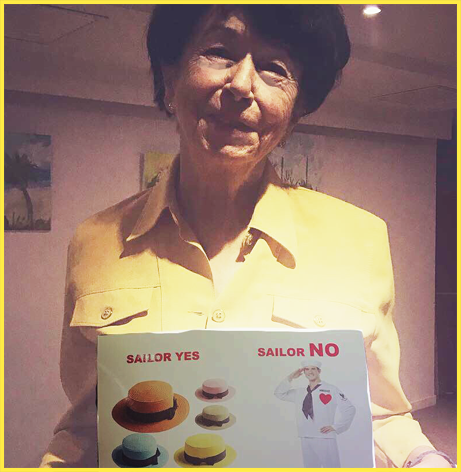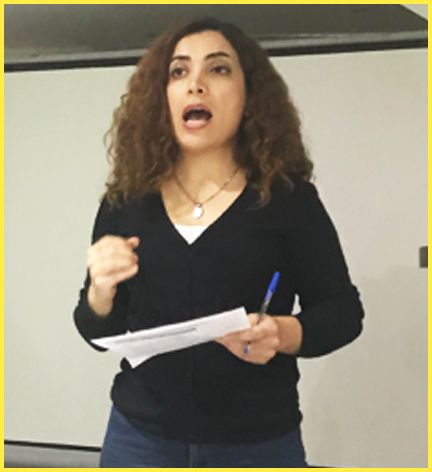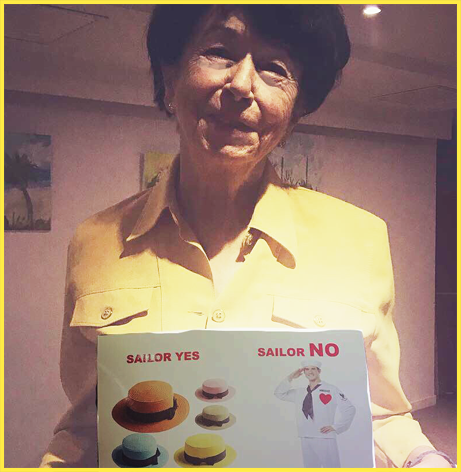 We started the evening hosted by Miguel, using philosophy in the challenging table topics of Jenny. We had 4 varied and interesting prepared speeches: Cristina completed her 10th and final speech (Competent Communicator). Preeti gave insights into building leadership in traditional Indian society. Maggie gave a hilarious speech on a typographical error on a magazine ("under a sailor instead of under a sailor hat "😂). Murielle,our youngest member, told us why it is important to have more females in finance and entrepreneurship.
Winners: Antony Table Topics Topics/Impros.), Preeti (Discours/Speech), Maricel & Michael
(Evaluation ex-aequo) Miguel (Host)
---
Réunion / Meeting 01.04.2019
Whooof: After a session of exciting Conference Meetings, our club enjoyed a normal pedagogic, relaxed and very unstressful evening. 15 members and guests contributed to some very active Toastmastering, and Mary, one of our guests jumped straight in for a table-topic. The quality of the presentations both oral and visual was extremely high and the subsequent evaluations were all highly professional. The meeting started a little late due to some traffic jams, BUT we ended ON TIME ! !
See you next meeting on 15.04.2019.
L/R Winners/Gagnants: Cristina (table-topics/Impros.)
Michael (Evaluation) Miguel(Discours/Speech) Frank (Host)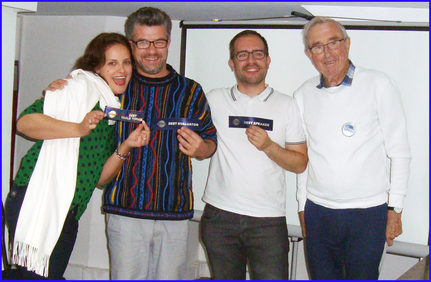 Whooof: Après une séance de conférences passionnantes, notre club a passé une soirée pédagogique, détendue et sans stress. Quinze membres et invités ont contribué à une 'Toastmastering' très active, et Mary, l'une de nos invités, s'est lancée directement afin de faire une belle Improvisation. La qualité des présentations orales et visuelles était extrêmement élevée suivi par les évaluations hautement professionnelles. La réunion a commencé un peu tard en raison de certains embouteillages, MAIS nous avons terminé a l'HEURE !
A bientôt Réunion le 15.04.2019.
---
Réunion / Meeting 18.03.2019 Concours EVALUATIONS Contest
Un orateur nommé est évalué par d'autres membres du club sur les aspects positifs et peut-être moins positifs de son discours. L'évaluateur, tout en appréciant la présentation, note soigneusement les points à améliorer et la manière dont une telle amélioration peut être réalisée. Une évaluation claire et détaillée d'une situation ou d'une personne est essentielle dans la vie moderne. Une telle formation est inestimable!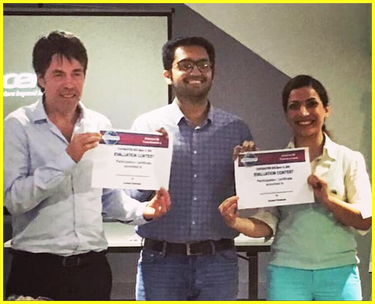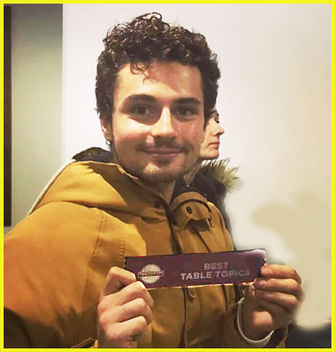 A very varied and interesting Forum including Brain Strictire, Stress Control, female professional orators, Toastmasters' growth worldwide and a joyous paper SNOWBALL FIGHT. We were all winners!
Un forum très varié et intéressant comprenant des préférences cérébrales, le contrôle du stress, des conférencières professionnelles (les femmes), la croissance mondiale de Toastmasters et des magnifiques batailles de boules de neige en papier. Nous étions tous des 'gagnants'.
---
Réunion / Meeting 04.03.2019
SPEECH CONTEST – CONCOURS des DISCOURS
Mâitre du Concours*Philippe
1ère place Jenny * 2eme placeMichael
Speech Contest Master*Anne
1st place David * 2nd place Frank
Quel concours excitant!!!
Les vainqueurs ont été choisis!
Leurs noms et les photos de la soirée se trouvent juste à côté!! Nous sommes très fiers!!! Ils iront représenter notre club dans le concours de la région du 30 mars qui sera organisé par nos confrères/consoeurs du club Toastmasters Sophia-Antipolis.
Merci à nos responsables de concours et juges du club Toastmasters Sophia-Antipolis de leur aide.
Faites des discours inspirants et PAS la guerre !!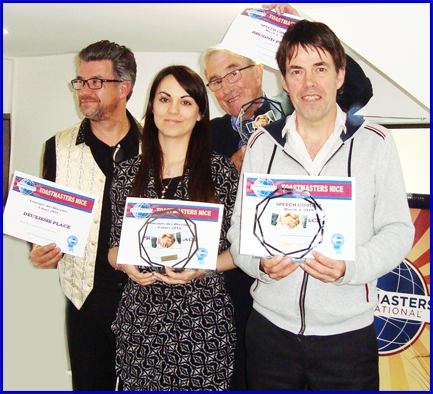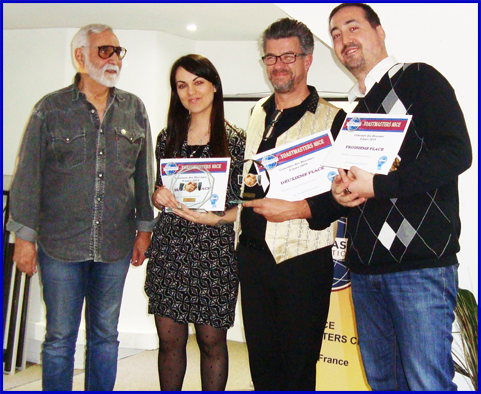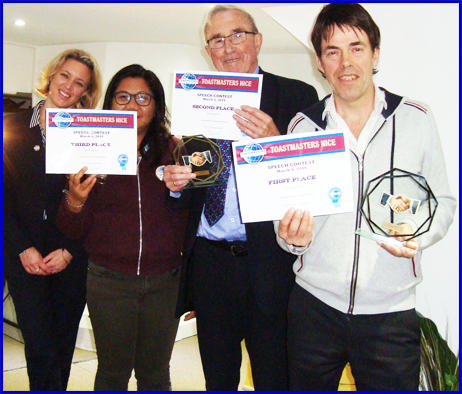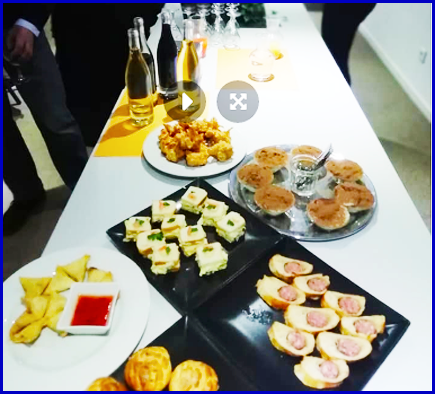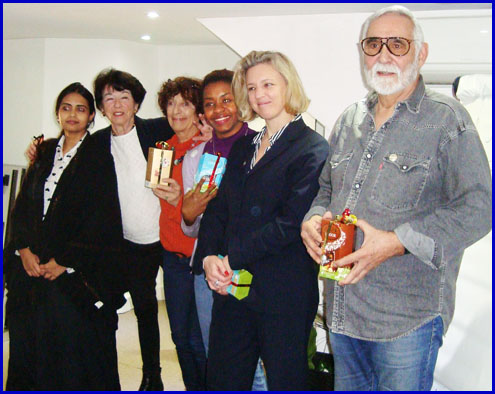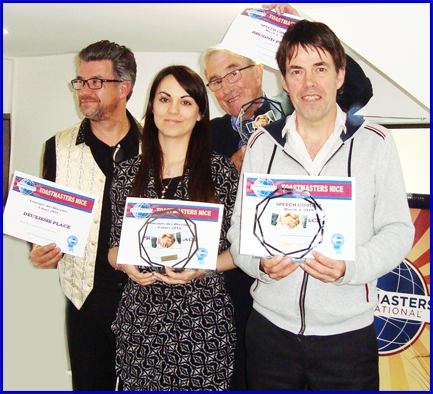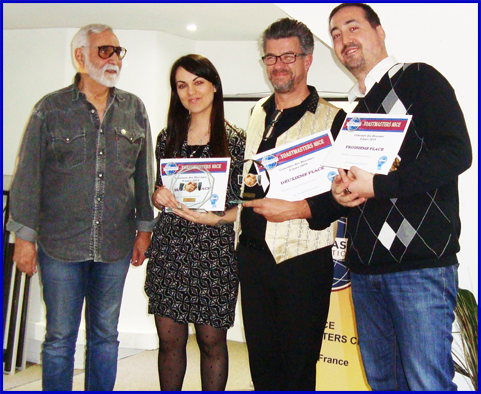 What an exciting contest!!!
The winners have emerged!
Check their names and photos of the evening! We are very proud.
They will go on to represent the the club in the area contest on March 30, which will be hosted by our sister club, Toastmasters Sophia-Antipolis. And hopefully until the international level of the contest.
Thank you to our contest chairs and panel of judges from TM Sophia-Antipolis for your support.
Make inspirational speeches NOT war!!
---
Réunion / Meeting 18.02.2019
Spring was in the air for our 14 members and guests. The genial atmosphere reflected this. We had two helpful and happy guests Robert (a fellow TM from Vancouver) and Jean-Stephan (back from Russia to Nice). The 4 speeches and evaluations ran smoothly. Bravo Maggie V for flash-improvising some fun Table Topics. Our President, Preeti ended the evening reminding us of the imminent Toastmasters' Speech Contests which (for our club) start on on the 4th March. So, let us all get working on some inspiring oratory backed up by some impressive organisation. See you soon !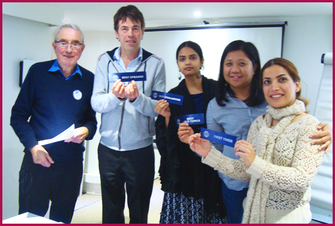 Winners / Gagnants: Toastmaster Host Frank
Best Speech David Best Table Topic Maricel Best Evaluation Preeti First Timer Mehrasa
Le printemps était dans l'air pour nos 14 membres et invités. L'atmosphère géniale reflétait cela. Nous avons eu deux invités gentils et serviables, Robert (un Toastmaster de Vancouver) et Jean-Stephan (de retour de la Russie à Nice). Les 4 discours et évaluations se sont bien déroulés. Bravo Maggie V pour avoir improvisé des Improvisations. Preeti, notre président, a terminé la soirée en nous rappelant les prochains concours de discours de Toastmasters qui (pour notre club) commencent le 4 mars. Alors, travaillons tous à un oratoire inspirant soutenu par une organisation impressionnante. À bientôt !
---
Réunion / Meeting 04.02.2019
Another wonderful session just took place with a balance mix of fun, learning, personal disclosure and meaningful feedback! Thank you to the wonderful 13 members and 7 curious guests present!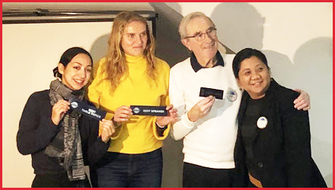 Bravo to Françoise, our guest from Tours, who was brave to do her 1st ever table topic, winning the best table topic ribbon! Lovely Malina got the audience's heart with her speech on the need to adapt professional life to women! And her evaluator, Frank, also got a ribbon for his evaluation.
Winners / Gagnants (left-right) Best Table TopicFrançoise, Best Speech, Malina, Best Evaluation Frank & Host Maricel
---
Réunion/Meeting21.01.2019
A regular meeting welcoming two dynamic new members to Toastmasters Nice, Mehrasa and Vaibhav! Thank you both for courageously wearing our 'Welcome Hat' during the presentation ceremony.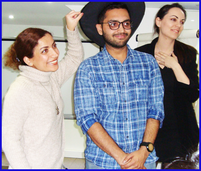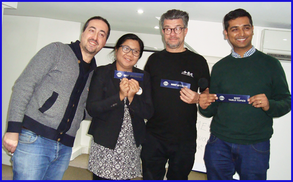 Une réunion normale accueillant deux nouveaux membres dynamiques à Toastmasters Nice, Mehrasa et Vaibhav! Merci à vous deux d'avoir porté notre 'chapeau de bienvenue' avec enthousiasme lors de la cérémonie de présentation.
---
FLASH 19.01.2019 Formation des Officiers Toastmasters
Un forum très varié et intéressant comprenant des préférences cérébrales, le contrôle du stress, des conférencières professionnelles (les femmes), la croissance mondiale de Toastmasters et des magnifiques batailles de boules de neige en papier. Nous étions tous des 'gagnants'.
A very varied and interesting Forum including Brain Modelling, Stress Control, female professional orators, Toastmasters' growth worldwide and a joyous paper SNOWBALL FIGHT. We were all winners!
des magnifiques batailles de boules de neige en papier. Nous étions tous des 'gagnants'.
Image right: Anthony, Area Governor; with Preeti, our much appreciated President of Toastmasters Nice.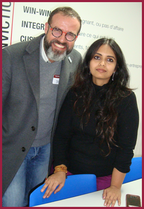 ---
Réunion / Meeting 07.01.2019
A a great start to another Toastmasters year. 14 members and guests who all contributed to an excellent evening.
Un bon début pour l'année 2019. 14 invités et membres ont contribué à une excellente soirée. Winners/Gagnants L/RBest Speech *Preeti, Best Evaluation *Frank & Best Table Topic *Maggie