07.09.2020 VIVE LA RENTRÉE MEETING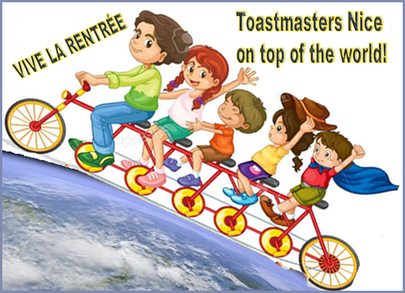 27 members and guests were actively present for our Post Summer Break Meeting. However, This number was the limit under current regulations and sadly registration had to close fairly early. Our programme was creative and friendly and our guest participation and feed-back was very enthusiastic. See you all again soon (21.09.2020).
27 membres et invités étaient activement présents à notre 'Vive la Rentrée Réunion'. Cependant, ce nombre de personne était la limite en vertu de la réglementation actuelle et malheureusement, l'enregistrement a dû fermer assez tôt. Notre programme était créatif et convivial soutenu par une participation active de la part de nos invités. A très bientôt (le 21.09.2020).
Winners/Gagnants :
L/R.Vanessa, Michael, Sarah – Host Miguel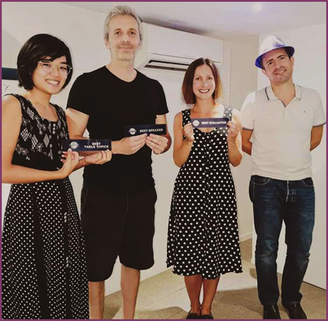 ---
20:07:2020 A PERFECT "SUMMER BREAK" MEETING
The year 2020 presented many challenges. Toastmasters Nice faced the situation and continued our club meetings ONLINE. However, returning to real live meetings was just wonderful!!!
We will all be back after the Summer Break – bursting with optimism and inspired with what we have learnt from this very challenging year of 2020. So, enjoy your summer and we look forward to seeing you on September 7th …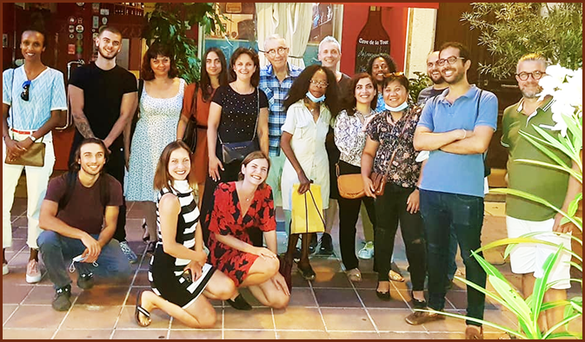 L'année 2020 a présenté de nombreux défis. Toastmasters Nice a fait face à la situation et a continué nos réunions de club EN LIGNE. Cependant, revenir à de vraies réunions en direct était merveilleux !!!
Nous serons tous de retour à la Rentrée – pleins d'optimisme et bien inspirés par ce que nous avons appris de cette année 2020 très éprouvante. Donc, profitez de votre été et nous avons hâte de vous revoir en septembre 7…
---
06:07:2020 A NEARLY NORMAL MEETING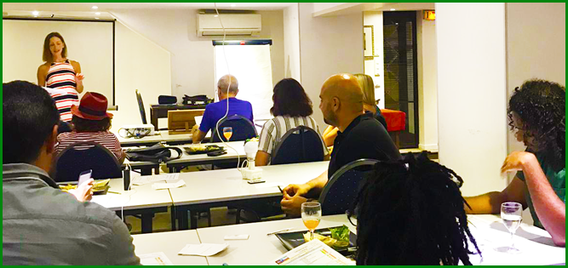 It was a fantastic feeling for 16 members and guests to meet up and communicate again just like old times. However hygiene and 'social distancing' still applied. Frank our founder member was in good form and won first place in Table Topics and Best Speech. Smiling Safae won Best Evaluator – Don't they both look cute?
C'était une sensation fantastique pour 16 membres et invités de se rencontrer et de communiquer à nouveau comme autrefois. Cependant, l'hygiène et la «social distancing» s'appliquaient toujours. Frank, notre membre fondateur, était en bonne forme et a remporté la première place dans les Improvisations et le meilleur discours. Safae souriant a remporté le prix du meilleur évaluateur – Ne sont-ils pas tous les deux mignons ?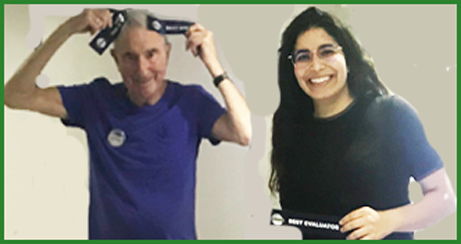 ---

A word from our New President, Hakim. Our Virtual Meetings certainly taught us some new techniques. Firstly, coming to terms with the logistics and adapting them to a typical Toastmasters educational programme. This was not easy and there were some 'glitches' but we all felt enthusiastic and on the verge of a new communication adventure. It is a fact that this virtual New Age communication system has opened doors to a new world. For example it was a magical experience for us to welcome fellow Toastmasters such as Christine, who dropped in from Quebec. We will certainly continue to develop our competence in this new adventure – it's worth it!
ZOOM Réunion/Meeting 22:06:2020
ZOOM Réunion/Meeting 08:06:2020
ZOOM Réunion/Meeting 25:05:2020
ZOOM Réunion/Meeting 18:05:2020
ZOOM Réunion/Meeting 06:04:2020
ZOOM Réunion/Meeting 30:03:2020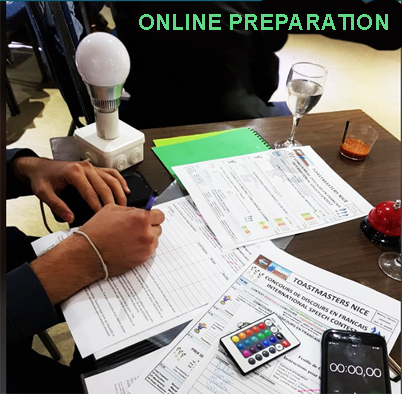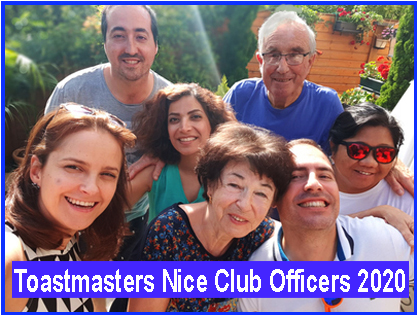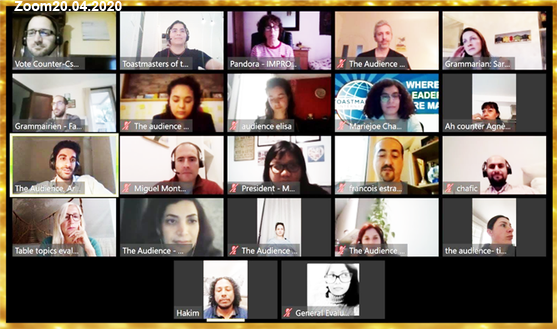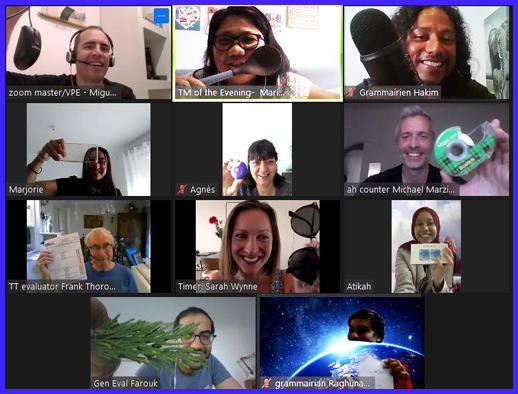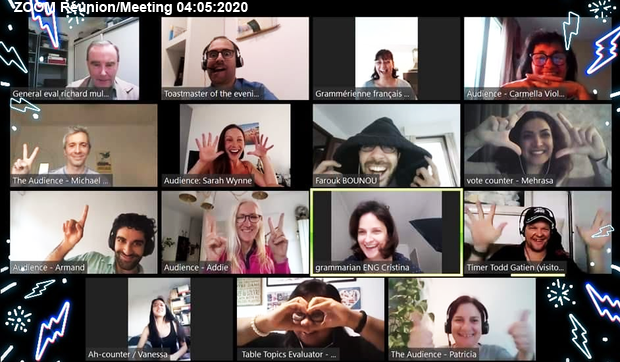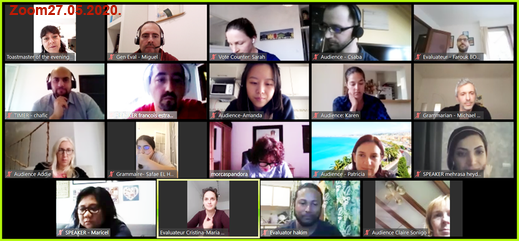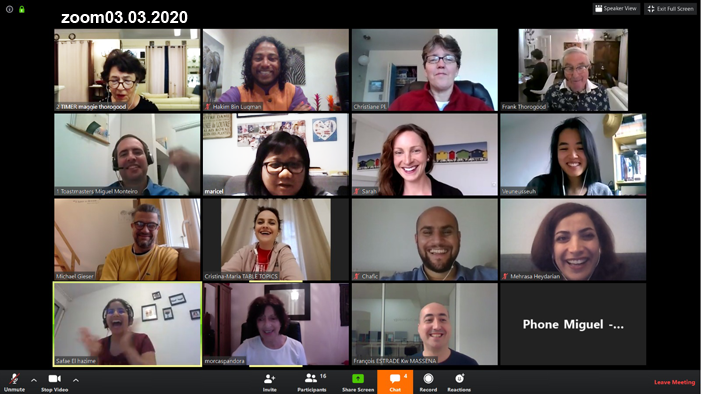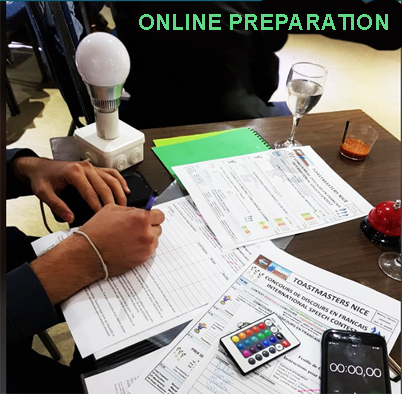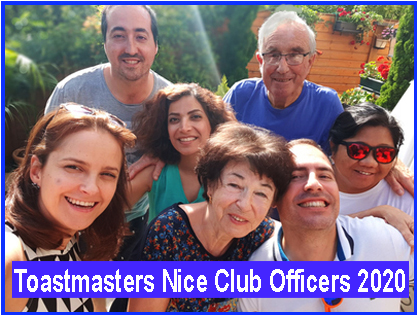 ---

02:03:2020 Notre club a connu un Concours de Discours exceptionnel, plein d'émotion et d'intérêt qui a capturé non seulement nos esprits mais aussi nos cœurs. Notre 'Nice'Techno.Team' a fait des miracles organisationnels grandement aidé par les membres d'autres Clubs Toastmasters voisins. Mais ce n'est pas tout ! Le 'SHOW' continue encore et encore !! Nos dignes gagnants se rendront au Concours régional samedi 14 mars où ils rivaliseront avec six autres clubs locaux. Vous pouvez être sûr qu'ils peaufinent déjà leurs discours afin de *briller* au prochain tour.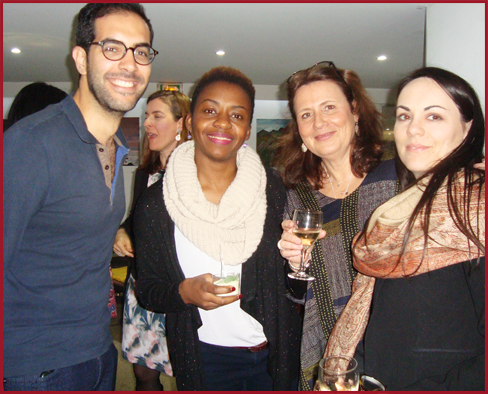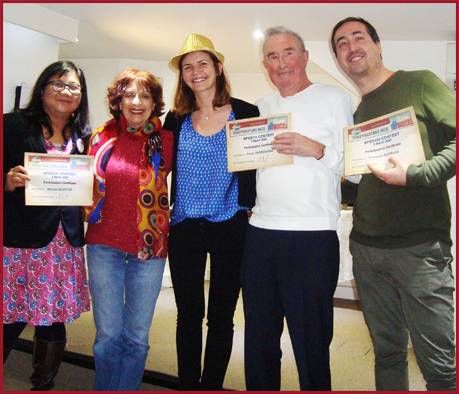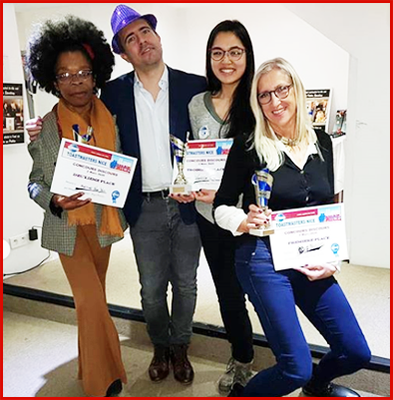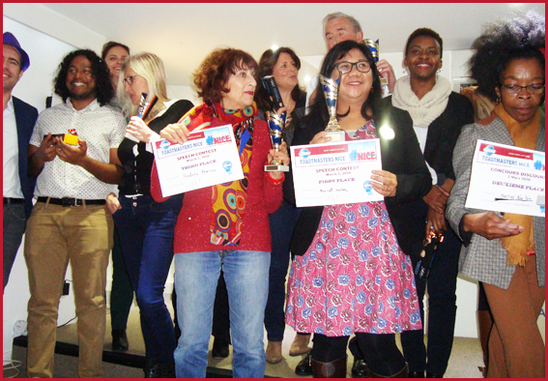 Our Club enjoyed an exceptional Speech Contest, full of of emotion and interest which captured not only our minds but also our hearts. Our 'Nice Techno.Team' worked miracles of organisation greatly helped by members from neighbouring Toastmasters Clubs. However, that's not all ! The SHOW STILL GOES ON !!! Our worthy Winners will go on to the Area Contests on Saturday, March 14 where they will compete with six other local clubs. You may be sure that they are already polishing up their speeches to shine out in the next round.
---

17:02:2020 A Contest Night to remember! Une Soirée Concours mémorable!
Contest Night…. As you can see we all seem happy. No trembling speakers, no agonised organisers, just lovely smiles ! At Toastmasters Nice we leave anxiety and stress at the bottom of our learning ladder and climb safely to the success level where we can find real pleasure in PUBLIC SPEAKING.
Une 'Nuit de Concours'…. Comme vous pouvez le voir, nous semblons tous heureux ! Pas d'orateurs tremblants, pas d'organisateurs agonisants, juste de beaux sourires!
Chez Toastmasters Nice, nous laissons l'anxiété et le stress au bas de notre échelle d'apprentissage et grimpons en toute sécurité jusqu'au niveau de réussite où nous pouvons trouver un réel plaisir à PARLER EN PUBLIC.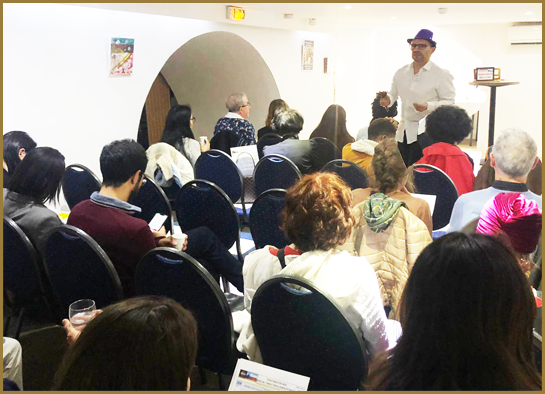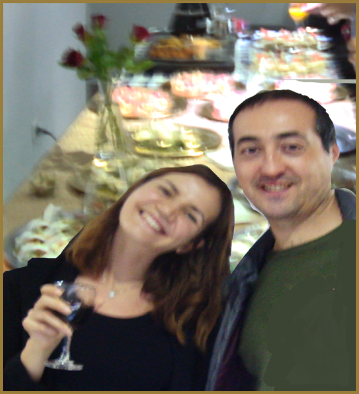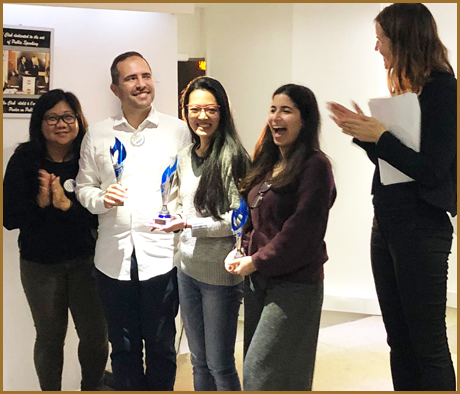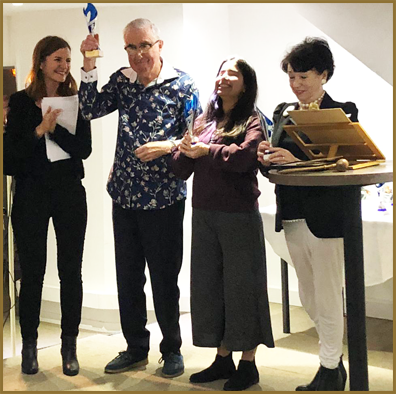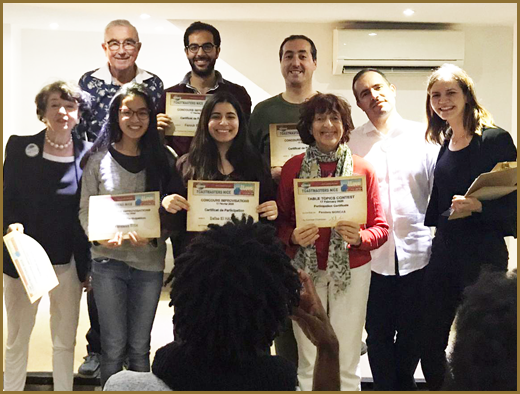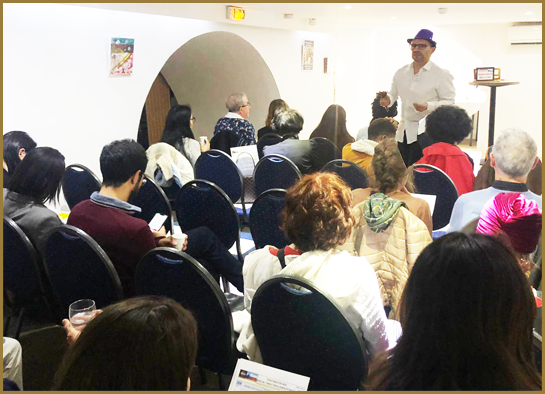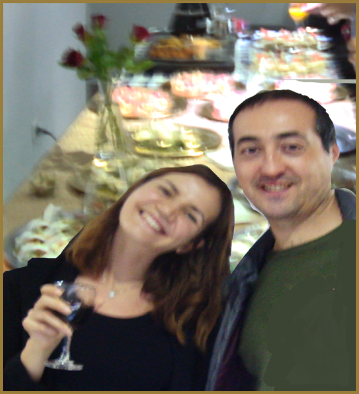 ---
Meeting/Réunion 03.02.2020
17 membres et 6 invités ont assisté à la réunion. Un de nos invités, Batiste, a été l'heureux gagnant de Table Topics. Pandora a remporté le prix de notre meilleure oratrice avec son discours «comment j'ai arrêté de fumer»; un absolu cocktail d'humour, d'imagination et de CHANSON! Addie a remporté la session d'évaluations avec une évaluation extrêmement organisée et utile. Ces séances spéciales, bien que légères et divertissantes, sont les outils de base de notre programme de formation où nous oublions le stress et prenons plaisir a parler.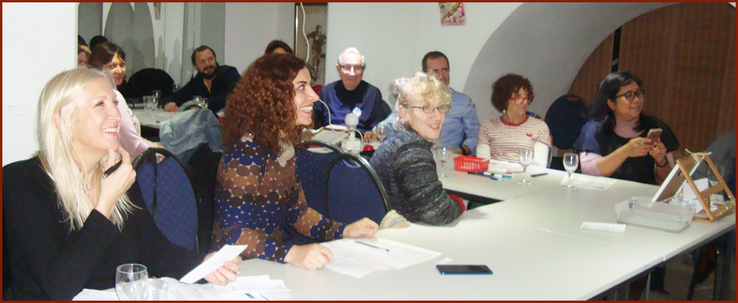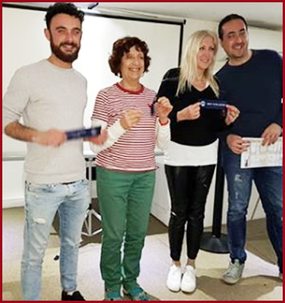 17 members and 6 guests attended the meeting. One of our guests, Batiste, was the happy Table Topics winner. Pandora won as our best speaker with her speech 'how I quit smoking'; an absolute cocktail of humour, imagination and SONG ! Addie won the Evaluations Session with an extremely organised and helpful evaluation. These special sessions, although light and entertaining, are the basic tools of our training programme where we just forget stress and enjoy speaking.
---
Meeting/Réunion 20.01.2020
The evening gave us a few headaches with some last-minute cancellations. HOWEVER, it also gave us 3 fantastic and memorable speeches, starting with Addie who treated us to a highly professional trip in time from Homo Erectus to Homo 'Electronicus'. Chafic's educational speech informed us just how easy it is, with a bit of practice, to become a successful and competent Criminal. Agnès went on to win our hearts with her moving description of an angelic hospital helper. Martine's deep, soul-searching table topics produced some very amusing and imaginative answers. The evaluators and the technical team did their job to perfection. In fact for our 18 members and 6 guests the time just flew by and the evening ended ON TIME! As usual there was some after-meeting gossip and discussion and we all went home happy. See you February 3rd.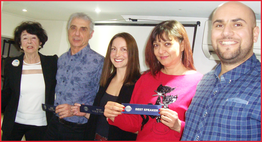 Winners/Gagnants L/R – *Evaluations: Maggie *Impros.:Sarah/Jean-Jacques *Speech/Discours: Agnès * Toastmaster Host: Chafic
La soirée a commencé avec quelques désistements imprévus. CEPENDANT nous avons profité de 3 discours fantastiques et mémorables. Addie nous a offert un voyage très professionnel dans le temps de Homo Erectus transformé plus tard en Homo 'Electronicus'. Le discours éducatif de Chaficnous a convaincu à quel point il est facile, avec un peu de pratique, de devenir un criminel efficace et compétent. Agnès a gagné nos cœurs avec sa description ludique et émouvante d'une aide-soignante au cœur d'or. Les Improvisations profondes et intrigantes de Martine ont produit des réponses très amusantes et imaginatives. Les évaluateurs et l'équipe technique ont fait leur travail à la perfection. En fait, pour nos 18 membres et 6 invités, le temps s'est envolé et la soirée s'est terminée à l'heure! Comme d'habitude, on a bavardé amicalement avant de reprendre le chemin du retour. A bientôt le 3 février.
---
Meeting/Réunion 06.1.2020

A great start to another Toastmasters year (may I say 'decade') with 23 guests and members all contributing to a very happy evening. The tapas were colourful and plentiful. Our Table topics were full of happy hopes and redeeming resolutions for 2020. Our speeches were all well prepared and pronounced with great enthusiasm. Our evaluators, while offering helpful council, reflected the efforts and achievement of our speakers. *BUT* our lovely meeting went overtime! This must be rectified in 2020??? See you all again on 20.01.20.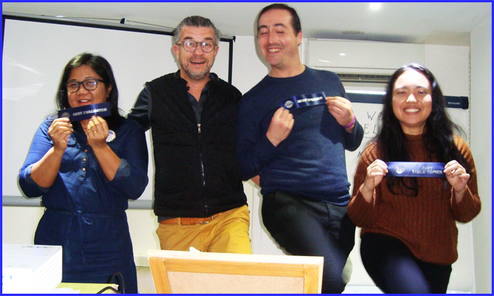 Our 'dancing' winners L/R – meilleure évaluation * Maricel
Hôte * Michael – meilleur discours * François –
meilleure improvisation * Sara (Guest)
Un bon début d'année (puis-je dire «décennie») 2020 pour Toastmasters Nice avec 23 invités et membres qui ont tous contribué à une heureuse soirée. Les tapas étaient exotiques et copieuses. Nos improvisations étaient pleines de bons espoirs pour 2020. Les discours étaient bien préparés et livrés avec enthousiasme. Nos évaluateurs, en offrant des conseils utiles, ont reflété les efforts et les réalisations de nos orateurs. * MAIS * un petit B mol – notre réunion s'est terminée avec 20 minutes de retard ! Cela doit être rectifié en 2020 ? Entretemps à vous revoir avec plaisir le 20.01.20.