Welcome to Toastmasters Nice! We are a bilingual, French and English public speaking club based in Nice, France.
We encourage our members to achieve their goals
You will learn to:
Control your stress.
Inform and inspire an audience.
Use modern technology.
Speak "off the cuff".
Constructively evaluate people.
Develop leadership qualities.
Become a good Speaker!
---
Vous apprendrez à :
Maîtriser votre stress.
Informer et inspirer votre auditoire.
Utiliser la technologie moderne.
Parler au pied levé.
Evaluer de manière constructive.
Développer vos qualités de leadership.
 Devenir un bon orateur!
---
Our Meetings
We meet every 1st and 3rd Monday of the month at Hotel Villa La tour at 19h for a 2 hour session. Following government directives masks are mandatory as well as the sanitary pass. We are obliged to ask you to provide a QR code.
Nos réunions
Suite à la dernière annonce de nationale, nous organisons nos réunions en ligne en format plus court et hebdomadaire.  Les membres du club recevront les détails et informations d'access aussitôt possible.  Veulliez noter que l'inscription est obligatoire.
---
PREVIOUS ZOOM  MEETINGS / REUNIONS
---
08.02.2021
Fresh off of giving his ice breaker speech last week, Giulio took on the role of Table Topic Master for this evening's session. Inspired by his Pathway choice of "Effective Coaching", Giulio prepared some table topics for us centered around the theme of coaching.
With 7 topics, every one of us got a chance to speak today, including our two guests, Yumiko, who is a member of Toastmasters in Tokyo, and Natalia who's finally managed to attend one of our meetings after wanting to for so long.
Yumiko must be especially pleased this evening, being voted best table topic speaker today for her improvised speech where she had to convince educators to start using robotic teachers for teaching English. Quick on her feet, she mentioned how confidence is very important when learning, and having a robotic teacher might put learners at ease, allowing them to practice the language more easily. Inspiring confidence and putting people at ease is definitely a useful skill as a coach.
From our other speakers, we got other insights into what makes a good or bad coach. Frank, in his response to the table topic of describing the best teacher he's had, mentioned that an important quality of a teacher is the ability to command respect and remain in control. Sarah, on the other hand, through her story about the worst teacher she's had, reminded us that if you're a in a position to coach or guide someone, you definitely shouldn't mock them! No faster way to kill someone's desire to learn than to deride them.
Today's table topics looked at coaching in various scenarios: as a teacher, as a parent, as a philosopher, and even as an artificial intelligence. This, together with everyone's enthusiastic engagement made for an interesting evening. Looking forward to the next one!
Fraîchement sorti de son discours de brise-glace la semaine dernière, Giulio a pris le rôle de Maître d'Improvisations pour la session de ce soir. Inspiré par son choix Pathway de «Coaching efficace», Giulio nous a préparé quelques sujets d'improvisation centrés sur le thème du coaching.
Avec 7 sujets, chacun de nous a eu l'occasion de s'exprimer aujourd'hui, y compris nos deux invités, Yumiko, qui est membre de Toastmasters à Tokyo, et Natalia qui a finalement réussi à assister à l'une de nos réunions, rélisant un souhait qu'elle tenait depuis un moment.
Yumiko doit être particulièrement ravie ce soir, étant élue meilleure oratrice de sujet d'improvisation pour son discours où elle a dû convaincre les éducateurs de commencer à utiliser des professeurs robotiques pour enseigner l'anglais. Elle a mentionné à quel point la confiance en soi est très importante lors de l'apprentissage, et avoir un robot comme professeur pourrait mettre les étudiants à l'aise, leur permettant de pratiquer la langue plus facilement. Inspirer confiance et mettre les gens à l'aise sont certainement des compétences utiles en tant que coach.
De nos autres intervenants, nous avons eu d'autres idées sur ce qui fait un bon ou un mauvais coach. Frank, dans sa réponse au sujet d'improvisation de décrire le meilleur enseignant qu'il ait eu, a mentionné qu'une qualité importante d'un enseignant est la capacité de se faire respecter et de garder le contrôle. Sarah, d'autre part, à travers son histoire sur le pire professeur qu'elle ait eu, nous a rappelé que si vous êtes en mesure de coacher ou de guider quelqu'un, vous ne devriez certainement pas vous moquer de lui ! Il n'y a pas de moyen plus rapide de tuer le désir de quelqu'un d'apprendre que de se moquer de lui.
Les sujets d'improvisation d'aujourd'hui ont abordé le coaching dans différents scénarios: en tant qu'enseignant, en tant que parent, en tant que philosophe et même en tant qu'intelligence artificielle. Ceci, combiné à la participation enthousiaste de tout le monde, a permis une soirée intéressante. On attend avec hâte la prochaine!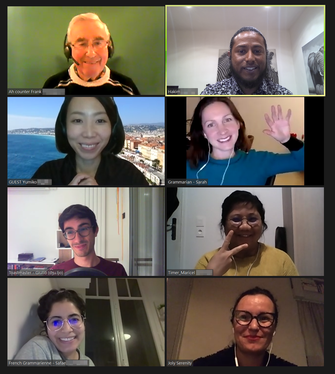 ---
01.02.2021
Ce soir, nous avons eu une séance de discours préparés et d'évaluations, et bien que nous n'ayons pas choisi de thème spécifique, il semblerait que se connaître et partager ces connaissances avec les autres à travers la narration d'histoires était ce que tous les orateurs avaient en commun.
Safae et Maricel ont prononcé leurs discours des projets 2 et 3 respectivement de niveau 2 de leurs propres parcours. Safae nous a parlé des styles de communication à travers son histoire d'apprentissage du surf avec un instructeur, tandis que Maricel nous a partagé les avantages d'un mentor à travers ses histoires qui comprenaient son premier voyage dans un puits de mine.
Enfin, notre nouveau membre, Giulio, a prononcé son discours brise-glace dans lequel il a partagé avec nous ses origines siciliennes et sa vision de certains aspects de la mentalité sicilienne. Elu meilleur orateur de cette soirée, Giulio a pris un départ prometteur à Toastmasters Nice.
This Monday evening we had a prepared speech and evaluations session, and although we didn't have a specific theme picked out, it would seem that knowing oneself and sharing that knowledge with others through story telling was what all the speakers had in common.
Club officers Safae and Maricel gave their speeches from projects 2 and 3 respectively of level 2 of their own pathways. Safae told us about communication styles through her story of learning to surf from a surfing instructor, while Maricel shared with us the benefits of a mentor through her stories which included her first trip down a mineshaft.
Finally, our newest member, Giulio, did his icebreaker speech in which he shared with us his Sicilian origin and his take on some aspects of the Sicilian mindset. Voted as this evening's best speaker, Giulio is off to a promising start in Toastmasters Nice.
---
18.01.2021

This really was a great Zoom evening for Toastmasters Nice. Our normal Zoom meeting was transformed into a palatial presentation due to the supportive presence from Toastmaster clubs in the area as well as guests zooming in from different parts of the world. However the star event was the live and very friendly participation of Richard E. Peck, President of Toastmasters International.
Special ZOOM Meeting with Toastmasters International.
C'était vraiment une super soirée Zoom pour Toastmasters Nice. Notre réunion Zoom normale a été transformée en une présentation féerique en raison de la présence importante d'autres clubs Toastmaster ainsi que des invités venant de différentes parties du monde. Cependant, l'événement vedette a été la participation très amicale de Richard E. Peck, Président de Toastmasters International.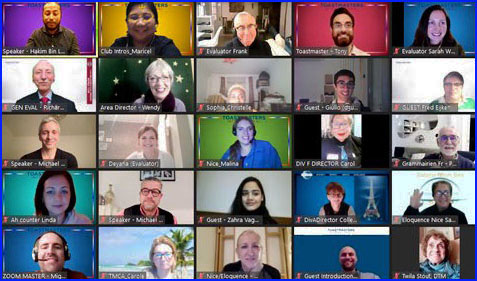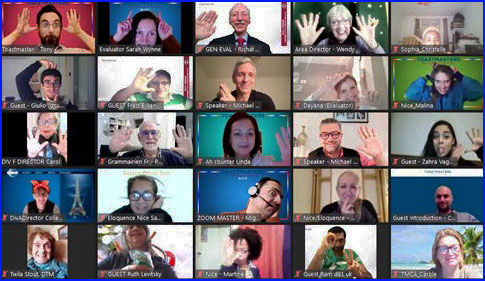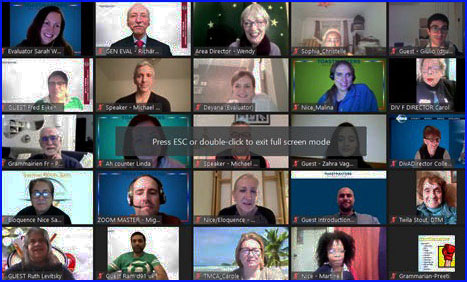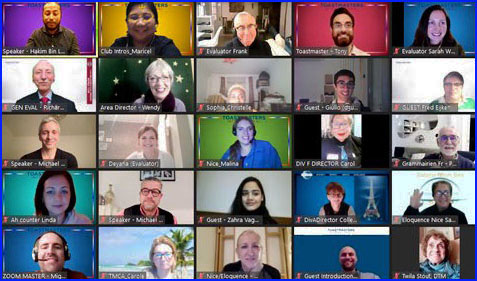 ---
11.01.2021 NEW YEAR Table Topics / Impros.
21.12.2020 Festive Christmas Break Meeting.
07.12.2020 Discours Préparés / Prepared Speeches.
16.11.2020 Halloween Horrific Terror !
09.11.2020 Table Topics/ Improvisations.
02.11.2020 Une soirée de Discours Préparés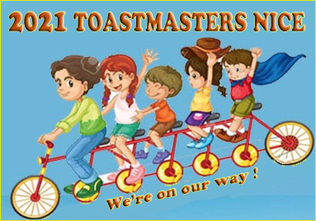 ---
Meeting/Réunion 05.10.2020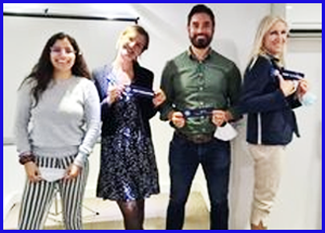 A Happy evening with some excellent vocal and visual presentations. Also a big THANK YOU to our active club members who put the show on the road. We were also pleased to welcome a new member, Tony, who will now become part of this strong and versatile Club.
Une soirée conviviale avec d'excellentes présentations vocales et visuelles. Un grand merci aussi aux membres de notre équipe pour avoir 'mis le spectacle en route. Finalement, nous avons été très heureux d'accueillir notre nouveau membre, Tony, qui fera désormais partie de ce club fort et polyvalent.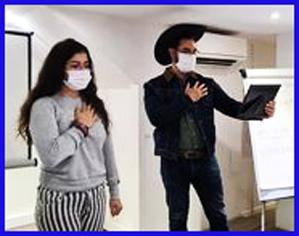 ---
Meeting/Réunion 19.10.2020
A merry evening for all, BUT as far as our winners were concerned this was a 'GIRLS ONLY' evening.
Gentlemen, 'pull your socks up' and polish up your oratory and communication powers for our next meeting on 19thOctober.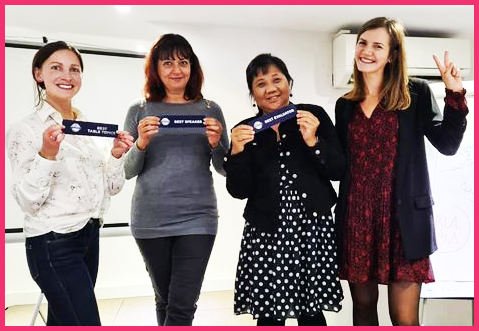 Une soirée joyeuse pour tous MAIS en ce qui concerne nos gagnants c'était une soirée plutôt FILLES.
Messieurs, 'retrousser vos manches' et peaufinez vos pouvoirs d'oratoire et de communication pour notre prochaine réunion le 19 octobre.
---
21.09.2020 A Meeting Full of Expressions and Proverbs
Our second meeting of the year saw 21 guests and members participating and delivering their very best. This evening we had a longer table topics session, with 10 table topics! It would seem that the theme of the night was proverbs and expressions, with our French grammarian Addie selecting French expressions using the word "fil" as the expressions of the day, and our table topics master Agnès proposing interesting French proverbs as table topic prompts. Even our brave guests gave the table topics ago, with one of them, Jean Jacques, winning the Best Table Topics ribbon! All in all, a very enjoyable and successful meeting. No surprise then that we have 4 guests filling in membership forms to join our club!
Notre deuxième réunion de l'année a vu la participation de 21 invités et membres. Ce soir, nous avons eu une session de discours improvisés plus longue que d'habitude, avec 10 sujets sur le thème des proverbes français ! Notre grammairienne française Addie a également proposé des expressions françaises utilisant le mot "fil" comme expressions du jour, restant toujours dans le même thème. Bravo à nos courageux invités qui ont relevé le défi des table topics avec aplomb, notemment Jean Jacques, qui a remporté le ruban de Best Table Topics! Dans l'ensemble, c'était une soirée très agréable et réussie. Pas de surprise alors que nous avons 4 invités remplissant des formulaires d'adhésion pour rejoindre notre club!
Winners/Gagnants : Sarah, Jean Jacques, Michael G,
along with toastmaster of the evening, Michael M.