Christmas Meeting/Soirée Noël 16.12.2013.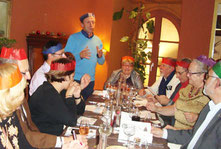 Notre fête est partie en grand éclat bien aidée par les 'Pétards' de Noël/Christmas Crackers (coutume britannique). Linda, Maggie et Frank ont organisé les jeux d'ambiance. Norma nous a parlé de ses souvenirs de Noël dans plusieurs pays. Alan était très érudite dans son rôle de Papa Yo-Ho-Ho Noël. Sur une note plus sérieuse, Philippe, notre gouverneur du secteur, nous a fait réfléchir sur notre nouveau statut (Chartered TM Club). Maintenant la porte est ouverte à tous les concours européens et même mondiaux.
---
---
Réunion/Meeting 02.12.2013
19 of us were present for this Meeting. Alan opened the proceedings and introduced our many guests. Maggie introduced our programme and Nisseem gave us some excellent table topics. Three well prepared speeches from Anne, Sylvain and 'double act' Régine and Alan. Alan (best table topic) – Alan & Régine (best speech) and Michel (best evaluation). Meeting ended on time.

---
Réunion/Meeting 18.11.2013




13 membres et invités courageux ont assisté à notre réunion malgré les pluies torrentielles et même une grève de tram. Alan notre Président, et François notre Président de soirée, ont lancé et animé la réunion. Frank était Maître des Improvisations. Régine a livré son discours 'Briser la Glace' et Linda a continué avec un discours instructif (workshop). Anne et Norma, ont prononcé des évaluations très professionnelles. Maggie et Sylvain ont livré leurs rapports sur la grammaire, le 'timing' et les gaffes. Alan a clôturé la soirée à l'heure. Prochaine réunion – LA GRANDE SOIREE de NOËL embellie par notre nouveau 'CHARTER'.
---
Réunion/Meeting 04.11.2013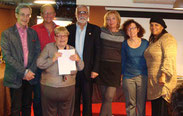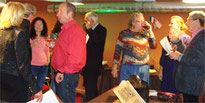 15 people were present (9 members and 6 guests). Philippe (our Division Governor) organised the Table Topics and one of our guests, Chrystelle, won the ribbon. However, perhaps the meeting was a bit too happy as many of us went overtime on our speeches. The only exception was Anne whose presentaton was excellent and on time – a model for us all. Remember – timing is the hall-mark of the real professional.
---
Toastmasters Nice Presentation at the EDHEC Business School 24.10.2013
Right to left: Table Topics, Toastmaster Team, EDHEC students
Sandra Richez made us welcome and warmly introduced us to her students at the EDHEC Business School in Nice. Our intrepid Nice Toastmasters' Team lead by Linda Raiola enjoyed presenting the Toastmasters' concept to this very receptive and attentive audience who gave us a lot of feedback afterwards. Needless to say, we hope to welcome some EDHEC students to our future meetings.
---
Réunion/Meeting 21.10.2013



Speech-makers Vanessa & Alan with Jean-Serg (table-topics winner)
Our meeting started well with 15 members and guests present,. Michel's table-topics were fun. 2 speeches by Vanessa (Icebreaker) and Alan. Frank, Gunta (a fellow tm. Riga), Philippe (our regional Governor), François and Maggie handled the evaluations and technnol session. Our evening ended triumpantly with 3 new members. We now have the requisite 20 members and will shortly receive our charter from Toastmasters International. We are now on board the Toastmasters International train and this is when it ALL STARTS !
---
OCTOBRE ECOBIZ présentation à la Chambre de Commerce de Nice a été un grand succès. Toastmasters Nice avec nos amis Toastmasters Côte d'Azur ont présenté les deux clubs d'une manière dynamique et positive.
---
Réunion/Meeting 07.10.2013




The meeting started on time with lots role improvisation. Sophie had to 'change her cap' at least four times. Our President Alan, jumped off his plane and telecharged himself down to our meeting. Marie Thérèse 91 years old and an experienced joined us. Vanessa won the Table Topics). Sophie and Michel gave a very worthwhile speeches evaluated by Maggie and Frank. The Techno team was well-managed by Frank and jFrançois. The meeting ended happily and on time.
---
Au Rendez-vous des Associations, Palais des Expositions de Nice, le 21 Septembre 2013.



Les membres des Toastmasters de Nice et de la Côte d'Azur clubs étaient présents pour accueillir les nombreux visiteurs sur notre Stand. . Le soutien de la Mairie de Nice a été très apprécié.
---
Réunion/Meeting 16.09.2013




We had a fun evening with 3 excellent guests – Dany, Michel and François all participating with gusto. Sophie was President of the Evening. Frank was Toastmaster of the Evening aided and abetted by a very colourful Linda as General Evaluator. We enjoyed some intuative table topics from Philippe followed by two excellent speeches from Sophie and Anne. They were profoundly evaluated by Michel and Maggie. Linda & François made a good techno team. The whole evening ended successfully, on time and on an extremely happy note.
---
Réunion/Meeting 02.09.2013 (1ère de la Rentrèe/1st of the TM Season)



Alan, comme nouveau président, a dirigé la soirée. Nos huit invités ont participé activement. Véronique (notre invitée) a gagné des improvisations. Deux discours par Linda et Alan ont continué la soirée. Maggie et Frank ont évalué les deux discours et Linda et Sophie ont clôturé la Soirée en remerciant vivement nos invités pour leur participation.
---
Meeting/Réunion 08.07.2013 (dernière de la Saison TMs/last of the TM Season)




Nous étions douze personnes pour notre dernier réunion de la saison. L'atmosphère a été très conviviale soutenue par un excellent 'Happy Half Hour' desservi avant la réunion. Au-delà de nos procédures normales, nous avons ellu notre nouveau Bureau. Notre première réunion après la rentrée est programmée pour le 2 septembre 2013 et nous espérons pouvoir obtenir notre 'Toastmasters Club Charter' et magnifique Bannière bien au rendezvous. Nous vous souhaitons du bonheur et de la santé. A bientôt!
---
Meeting/Réunion 24.06.2013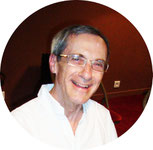 Table Topics winner was Alan Johnson.

Frank Thorogood gave a PowerPoint presentation on Body Language.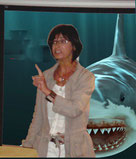 Frédérique Guigonous a raconté la VRAI histoire avec un gentil requin.
---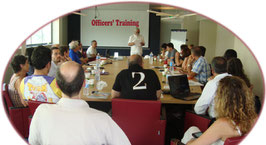 OFFICER TRAINING VILLENEUVE LOUBET 22.06.2013
Anne, Maggie and Frank represented our club at the Division 'A' (South of France/Lyon area) Officers' Training Session. Philip Christin, our Governor, was in great form. We had a great time meeting new people as well as some old friends after an excellent lunch.
Meeting/Réunion 27.05.2013. Five guests were present and one joined the club immediately. Table Topics: Gabriella. The winner was Maggie.
Speeches: Syvlain, from the Villeneuve Loubet club, gave his first speech in English.. Anne, en français, "le calvaire" Edoaurd, gave us a Power Point presentation The winner was Anne.
---
Meeting/Réunion 06.05.2013. Philippe Christin (gouverneur du secteur) a été notre président de soirée. Table Topics: Anne Topenot introduced some dramatic phrases which her 'victims' had to complete.
Discours/Speeches: Alan Johnson, gave his first speech (icebreaker). Gabriella Colombo gave here second speech in English.
Evaluations: Linda & Melanie gave construtive and encouraging evaluations.
---



---
Meeting/Réunion 15.04.2013. Attendance was good for the meeting despite the holidays. Table Topics: Maggie asked us to talk about the "philosophy of gnomes".
Speeches/Discours : Pour son premier discours Gabriella nous a expliqué comment éviter la procrastination. Frank' speech gave us some ideas on negotiation. Evaluations: Frédérique & Sophie.
---
Meeting/Réunion 18.03.2013. Une soirée très réusite avec des improvisations joyeuses de Frédérique suivies par 3 excellents discours. A very good evening with some fun impros. from Frédérique and 3 excellent speeches. Gagnants/Winners……..
---
Meeting/Réunion 04.03.2013. We were very happy to welcome two stars, Cedric and Pascale, from 'Countablabla Nice. Pascale was voted best Table Topic Speaker. www.countablabla.com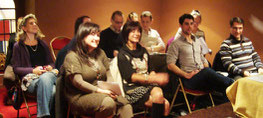 ---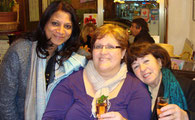 Réunion/Meeting 04.02.2013.
Nous avons eu le plaisir d'accueillir plusieurs résponsables de Toastmasters Europe après leur conférence à Nice. (Picture Uma and Morag with Maggie).
---
Réunion de Noël/Christmas Meeting
A word from our Président, Frank Thorogood
Our Christmas meeting with our friends from Toastmasters Côte d'Azur. Just the fifth meeting since our beginning on October 15, and the room was full.